Coronavirus – the latest updates from George Foreman Grills -
FIND OUT MORE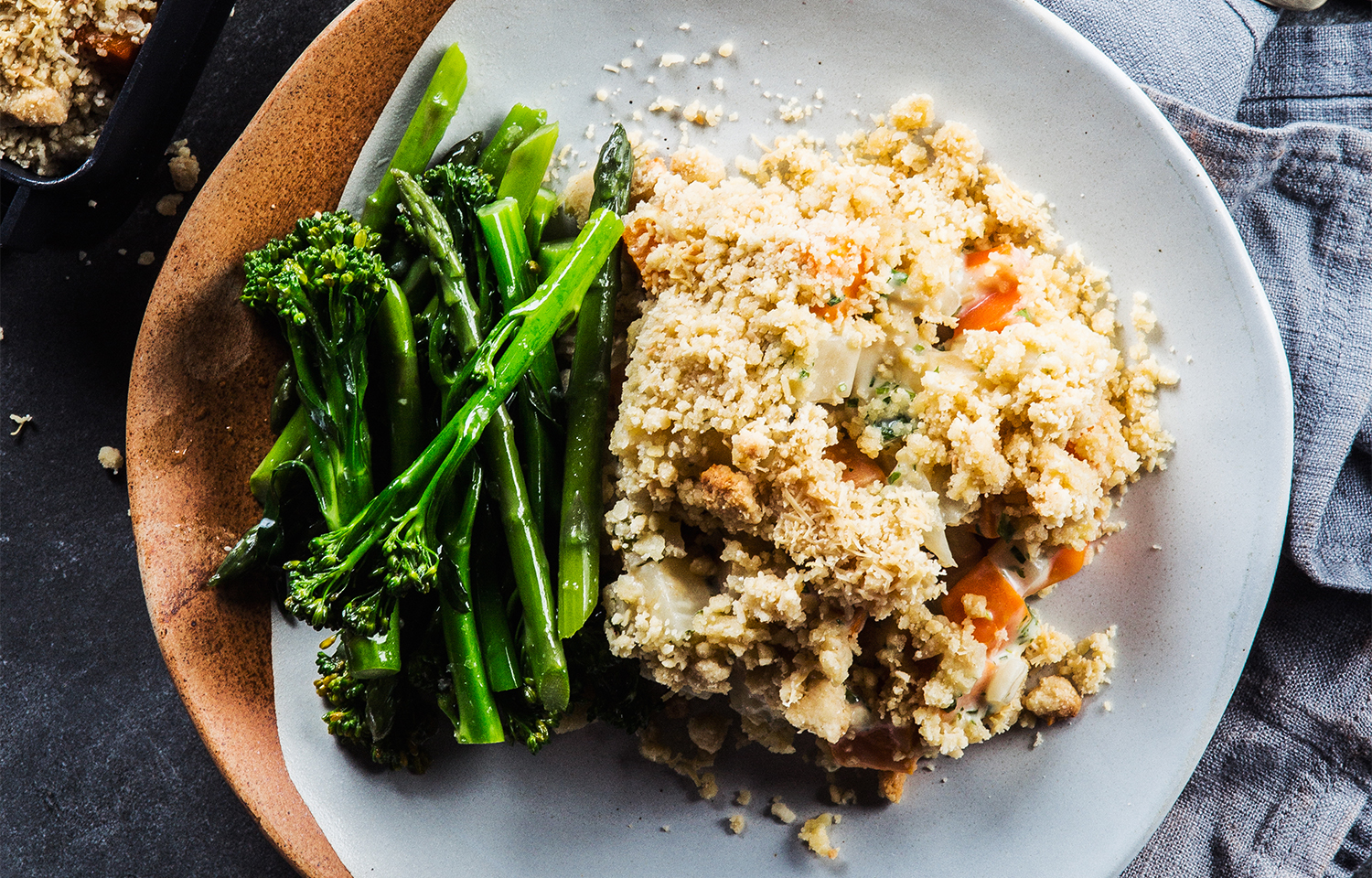 Vegetable Crumble
Ingredients
For the béchamel sauce:
60g butter

60g plain flour

600ml milk
For the vegetable filling:
500-600g diced hard vegetables eg. carrot, celeriac, sweet potato
½ bunch flat leaf parsley, chopped
Salt and pepper
For the crumble topping:
100g butter, diced and cold
100g plain flour
100g parmesan cheese, finely grated
We recommend: the George Foreman Evolve Grill with Deep Pan Plate.
Serves: 4-6
Cook the vegetables in salted water until soft, then drain thoroughly and set aside on kitchen paper so all of the excess moisture is removed.
To make the béchamel sauce, start by melting the butter in a non-stick saucepan on a medium-low heat. Once fully melted, add the flour and mix to fully combine, forming a roux (you might find it easier to do this with a whisk, but a wooden spoon will work too). Keep stirring the roux on the heat for a further 30 seconds or so to ensure the flour is fully cooked through. Then, gradually stir or whisk in the milk making sure it is fully combined - do not add the milk all at once or your béchamel sauce will be lumpy. You may not need all of the milk, so keep an eye on the consistency as you're going along.
Add the cooked and drained vegetables to the béchamel sauce and mix in the parsley, then spoon the mixture into the bottom of the deep pan plate of your Evolve grill.
In a blender or food processor, blitz together the flour and the butter until a crumb-like consistency is formed - alternatively, cut very cold butter into small chunks and rub into the flour using your fingers to achieve the same result. Then stir in the parmesan.
Top the vegetables with the crumbly flour mix and attach to the grill, then cover the top with a piece of baking parchment so the top doesn't burn, and close the lid.
Heat the grill to 160ºC and cook for 15-25 minutes until heated all the way through and golden brown on top, then serve with your favourite green veg – we recommend Tenderstem broccoli!