Coronavirus – the latest updates from George Foreman Grills -
FIND OUT MORE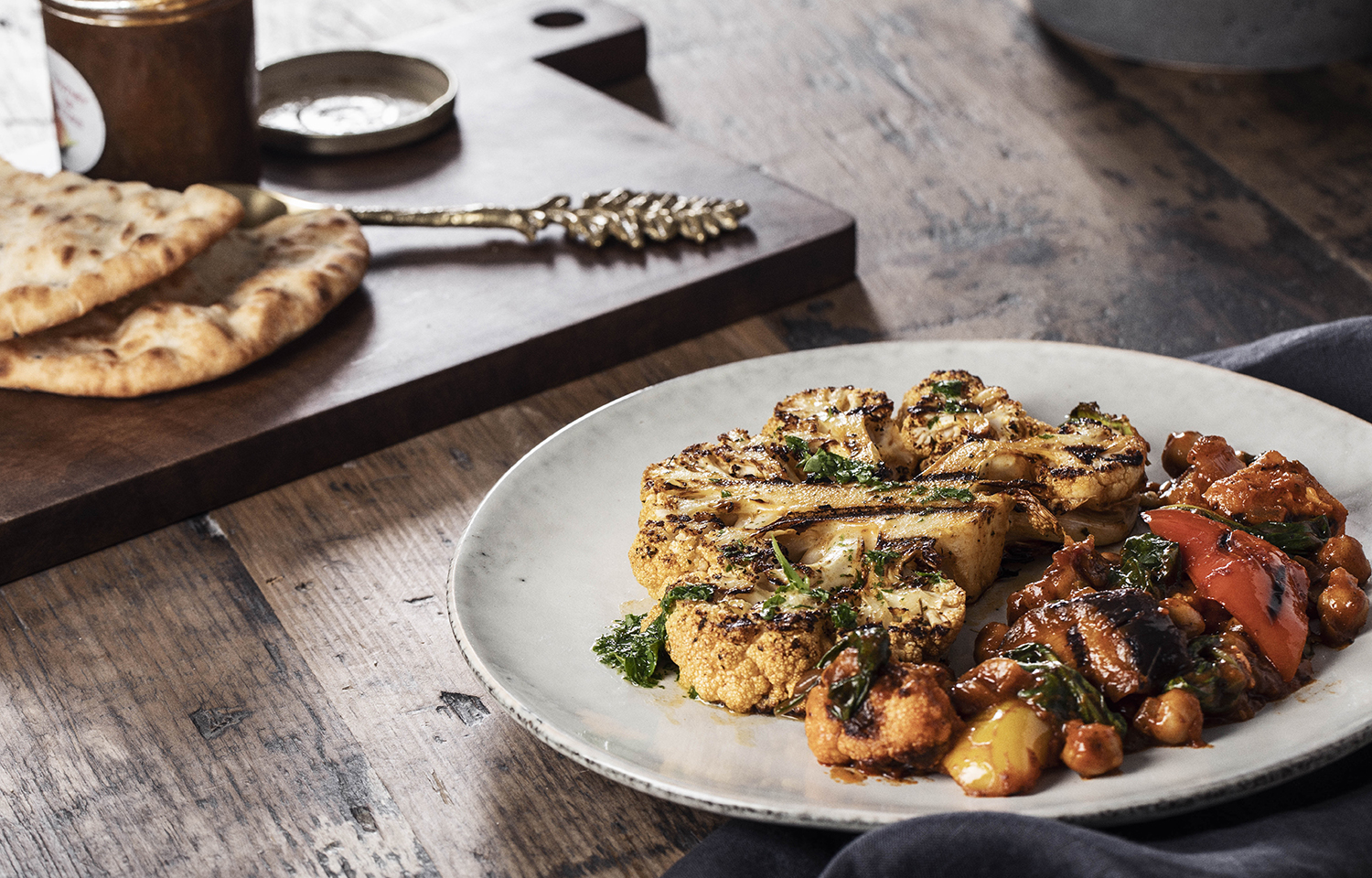 Tikka Cauliflower Steaks
Ingredients
1 head cauliflower
2-3 tbsp olive oil
2 tsp tikka spice mix
½ lemon, juice
Salt and pepper to taste
For the sauce garnish:
1 red pepper, de-seeded, cut into triangles
½ onion, cut into wedges
½ butternut squash, peeled and sliced approx. 1cm thick pieces
2-3 tbsp olive oil
Salt and pepper to taste
½ 450g jar tikka masala curry sauce
½ bunch coriander chopped
½ 400g tin chickpeas
Can be made using any George Foreman grill – we recommend the Medium Fit Grill or Medium Steel Grill.
Serves: 2
Pre-heat your favourite George Foreman Grill to maximum. Brush the olive oil on the butternut squash, pepper and onion, then season with salt and pepper. Grill each vegetable until cooked through. The butternut squash will take the longest at approximately 8-10 minutes and the onion and pepper between 3-6 minutes.
Place the grilled vegetables in a saucepan along with the tikka masala sauce and chickpeas and gently heat. Stir in the coriander.
Remove the outer leaves of the cauliflower head; trim the stem end level so you can set the cauliflower flat on a chopping board. Carefully cut 2 large steaks out of the cauliflower and save the trimmings for another day.
Combine the olive oil, tikka spice mix, lemon juice and seasoning together and brush onto both sides of the cauliflower steaks. Set aside to marinate for 20 minutes.
Pre-heat your grill once more and cook the cauliflower steaks for 8-12 minutes until golden brown.
Serve up with your chunky vegetable curry and naan bread or chapatti.