Coronavirus – the latest updates from George Foreman Grills -
FIND OUT MORE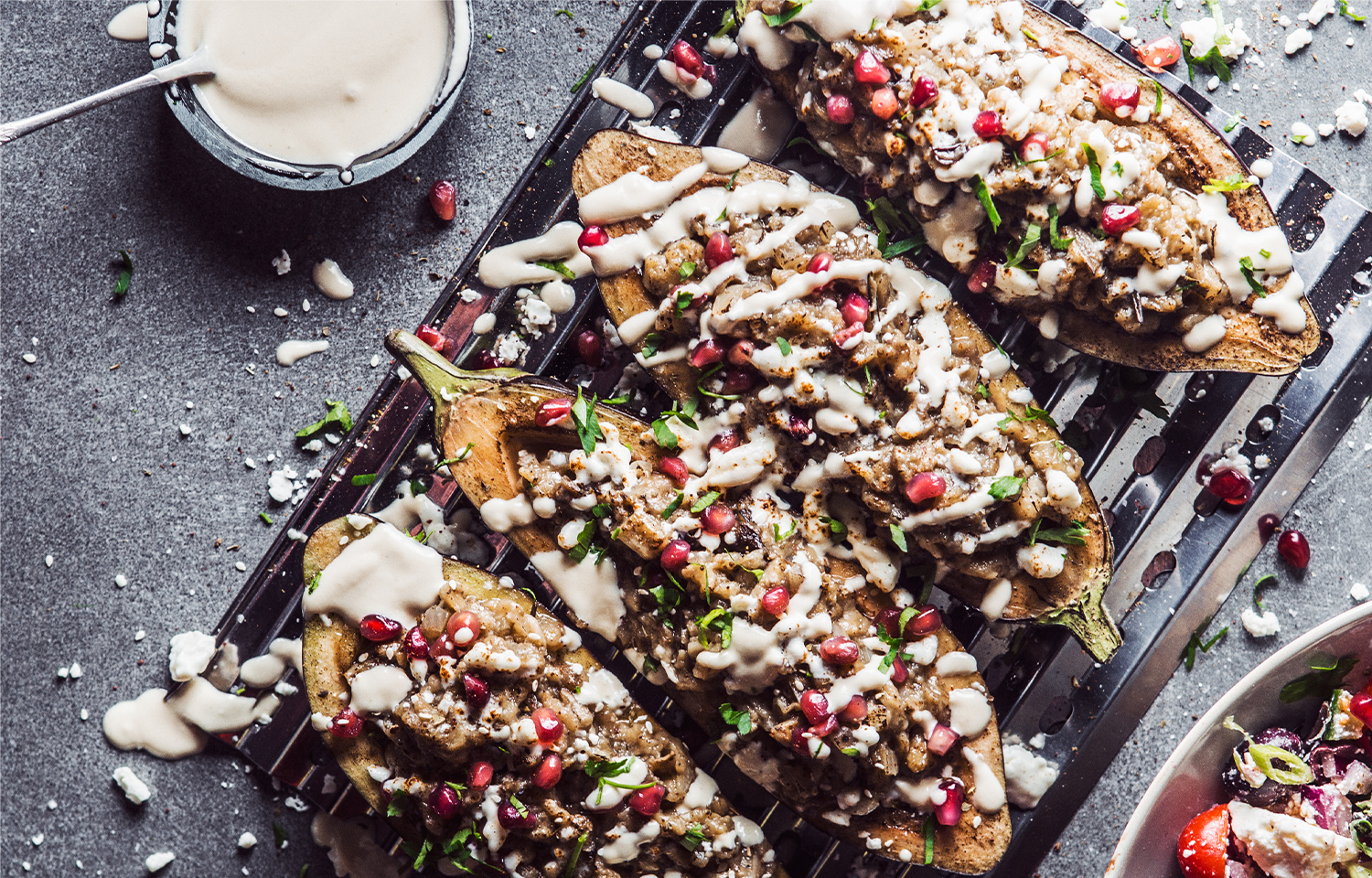 Grilled Stuffed Aubergine
Ingredients
2 aubergines
1 white onion, finely chopped
2 cloves garlic, minced
½ red chilli, finely chopped
200g feta cheese
Pomegranate seeds
½ bunch flat leaf parsley, finely chopped
4 tbsp olive oil
Salt and pepper to taste
For the dressing –
60g tahini paste
55ml Greek yoghurt
½ lemon juice
2 cloves garlic, minced
85ml water
70ml olive oil
Salt and pepper to taste
For best results, use the George Foreman Grill & Melt Grill.
Serves: 2-4
For the dressing, combine the tahini, Greek yoghurt, lemon juice, garlic, water, 70ml olive oil, salt and pepper in a small bowl and set aside.
Slice each aubergine in half lengthways and scoop out the middle onto a chopping board – be careful not to puncture the skins when doing this, as you'll want them in one piece later on!
Roughly chop the fleshy part of the aubergine that you removed from the skin, and set aside.
Heat half of the remaining olive oil in a frying pan and cook the onion, garlic and chilli until soft and golden brown, then add the chopped aubergine from earlier and cook for a further 6-8 minutes, stirring at regularly.
Pre-heat your Grill & Melt Grill to maximum with the grill plates attached. Brush the remaining olive oil over the aubergine skins and season.
Grill for 3-4 minutes then carefully remove and turn off the grill to cool. Fill your aubergine skins with the cooked aubergine and onion mixture, then top with some crumbled feta, making sure not to overfill too much!
Once cooled to the touch, remove the top grill plate to activate the melt function, and turn the grill back on. One up to temperature, place the stuffed aubergines back onto the grill, close the lid and cook for a final 2-4 minutes.
Remove from the grill and drizzle over some of the dressing, then finish with some pomegranate seeds and chopped parsley.
Serve alongside a leafy salad or your favourite seasonal vegetables for a delicious healthy meal!