Coronavirus – the latest updates from George Foreman Grills -
FIND OUT MORE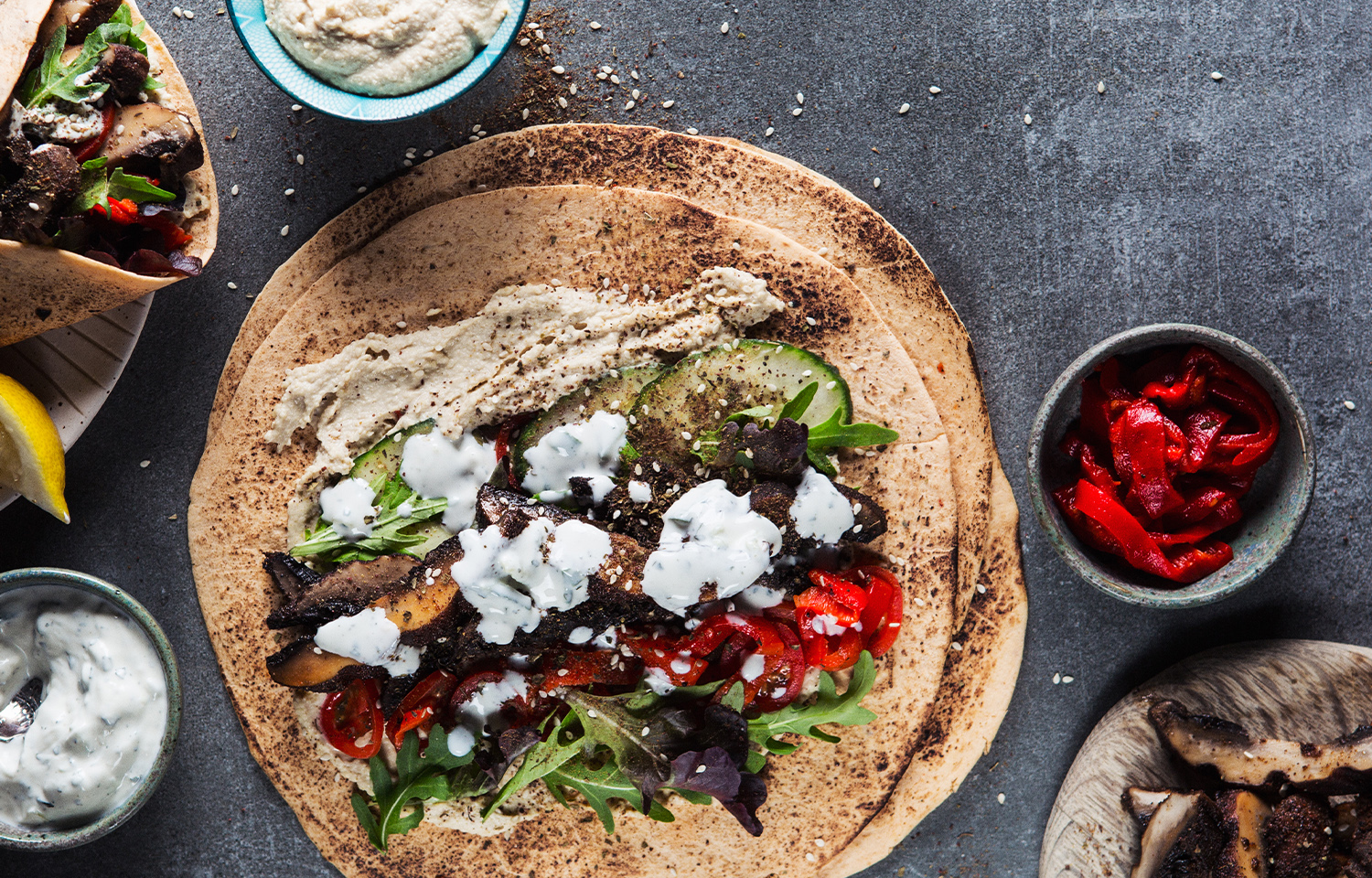 Vegan Shawarma
Ingredients
8 Portobello mushrooms
½ cucumber, sliced
10-12 cherry tomatoes, cut in half
Lettuce leaves
8 tbsp hummus
4 pitta wraps
For the marinade:
¾ tsp ground coriander
1 tsp garlic powder
¾ tsp paprika
1 tsp onion powder
½ tsp black pepper
1 tsp cumin powder
8 tbsp olive oil
For the yoghurt dressing:
120g vegan yoghurt
1 clove garlic, finely chopped
½ lemon, juice and zest
1 tbsp olive oil
Salt and pepper to taste
Can be made using any George Foreman grill – we recommend the Large Fit Grill or Smokeless BBQ Grill.
Serves: 4
In a bowl, mix together all of the marinade ingredients. Once thoroughly combined, dip each mushroom in the marinade, making sure they are fully coated and have absorbed all of the flavour, and lay out on a tray. Once all mushrooms are laid out, drizzle any remaining marinade over the top of the mushrooms.
Pre-heat the grill to maximum. Grill the mushrooms in batches for approximately 6-10 minutes, until all mushrooms are cooked through.
Whilst the mushrooms are grilling, grab a small bowl and mix together all of the yoghurt dressing ingredients and set aside for later.
Slice the mushrooms once they are cooked.
To serve: Lay out the pitta wraps, spread 2tbsp of hummus onto each wrap followed by some cucumber slices, lettuce leaves and tomatoes.
Divide the sliced mushrooms between the wraps and top with a drizzle of the yoghurt dressing.