Coronavirus – the latest updates from George Foreman Grills -
FIND OUT MORE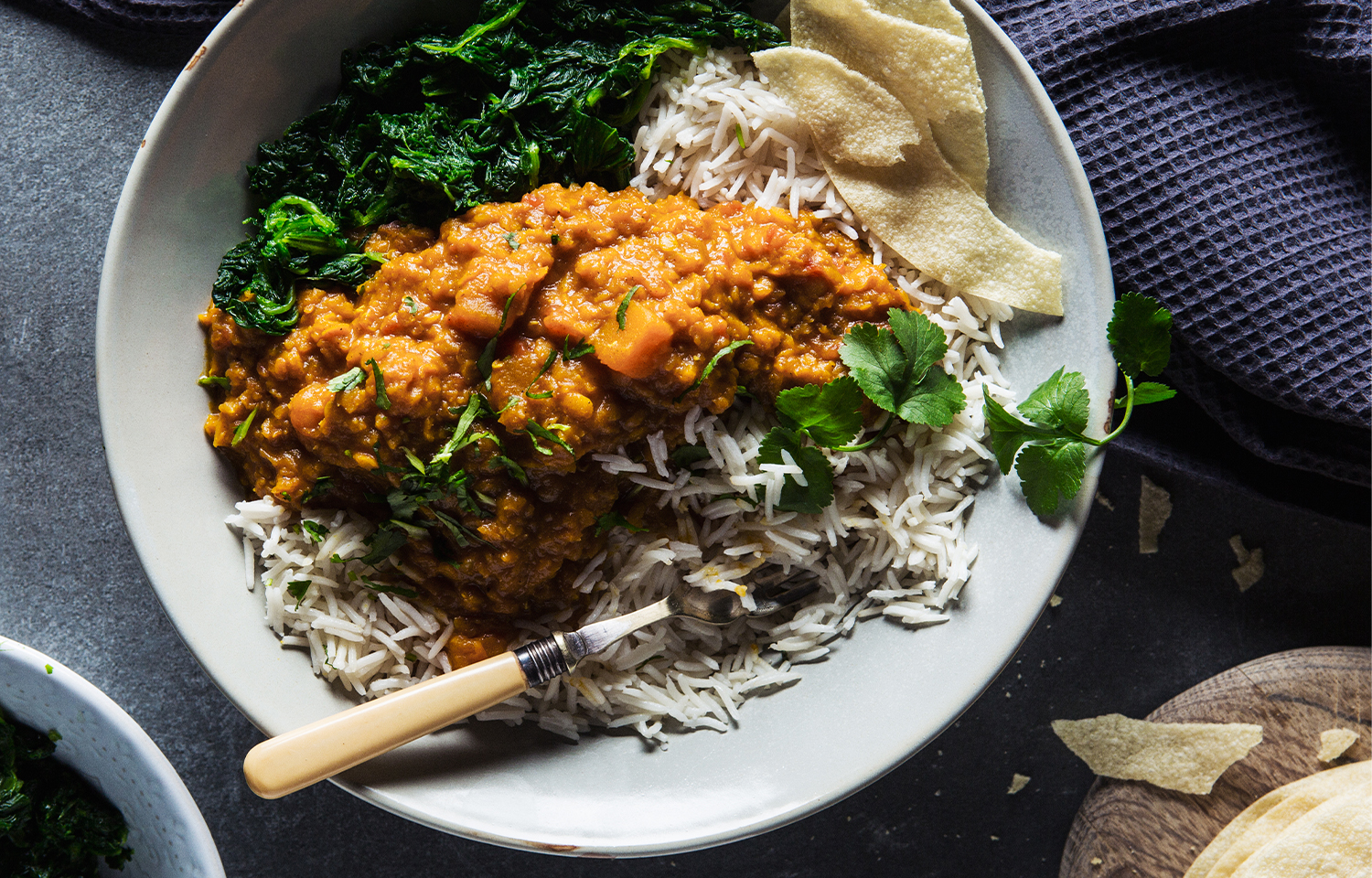 Lentil Dahl
Ingredients
1 tbsp sunflower oil
1 medium white onion, finely chopped
1 garlic clove, finely chopped
½ tsp ground coriander
½ tsp ground cumin
½ tsp turmeric
¼ tsp cayenne pepper
Pinch of salt and pepper
100g butternut squash, diced into 1cm sized chunks
450ml vegetable stock
½ tin chopped tomatoes
120g red lentils
½ bunch fresh coriander, chopped
To serve:
70g rice per person, cooked per package instructions
Naan bread
Pappadums
Mango chutney
We recommend: the George Foreman Evolve Grill with Deep Pan Plate.
Serves: 2-4
Pre-heat your George Foreman Evolve Grill with the deep pan attached to 175o, then add the sunflower oil and heat through.
Add the onion and garlic, and cook for 3-5 minutes until the onions are soft but translucent.
Stir in the ground coriander, cumin, turmeric, cayenne pepper, salt, pepper and butternut squash, and cook off the spices for a few minutes, stirring regularly so they don't burn.
Add the stock and chopped tomatoes, then bring to the boil.
Once boiling, reduce the heat and simmer for approximately 10 minutes, stirring occasionally so nothing sticks or burns.
Stir in the lentils and simmer for a further 20 minutes or so, stirring every now and again until the lentils and butternut squash are soft and fully cooked.
Finally, stir through the coriander and serve with your choice of rice, pappadums, naan and a dollop of mango chutney!
Top tip: if you prefer sweet potato, feel free to substitute for the butternut squash - just follow the recipe as per the normal instructions!