Coronavirus – the latest updates from George Foreman Grills -
FIND OUT MORE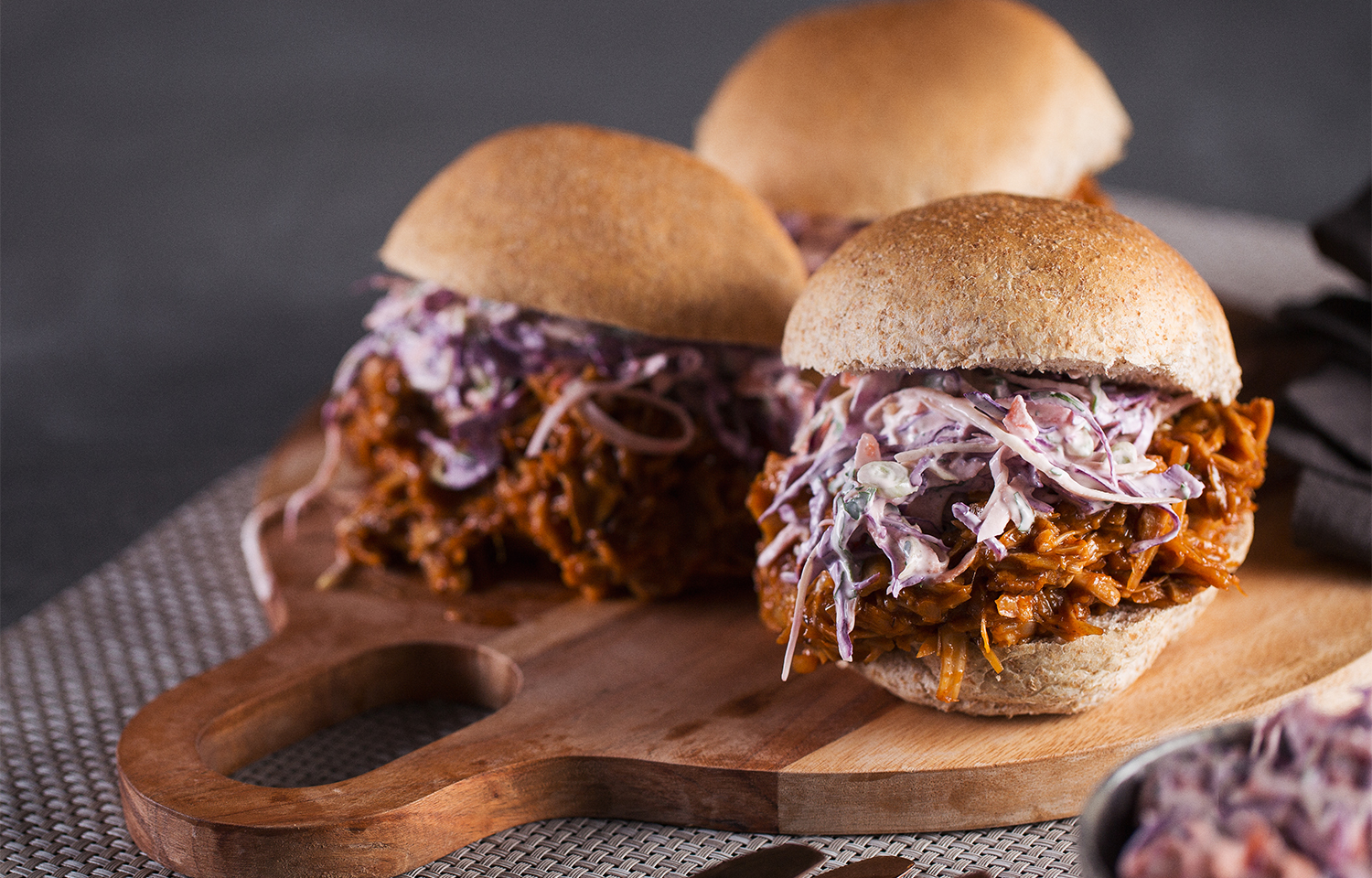 BBQ Pulled Jackfruit
Ingredients
For the BBQ Sauce:
½ white onion, finely chopped
1 clove garlic, finely chopped
60g tomato ketchup
10ml dark soy sauce
1 tbsp dark brown sugar
1 tbsp vegan Worcestershire sauce
½ tbsp malt vinegar
3-4 drops tabasco sauce
¼ tsp mustard powder
For the filling:
2 tbsp olive oil
2 x 565g tins of jackfruit in brine or water
2 tbsp olive oil
1 onion, finely diced
2 cloves garlic, finely chopped
We recommend: the George Foreman Evolve Grill with Deep Pan Plate.
Serves: 2-4
Drain the jackfruit and cut the root parts off, set aside.
For the BBQ sauce, attach the deep pan plate to your George Foreman Evolve Grill and pre-heat to 220o Add the oil and heat for 1 minute. Add the onion and garlic and cook for 3-4 minutes, stirring occasionally. Carefully add the tomato ketchup, dark soy sauce, dark brown sugar, vegan Worcestershire sauce, malt vinegar, tabasco sauce and mustard powder, and mix well. Cook for 4-5 minutes, stirring occasionally. Once cooked, turn the grill off and allow the sauce to cool. Remove into a bowl and set aside for later.
Clean your deep pan plate, reattach and reheat to 220o Add the oil and heat for 1-2 minutes.
Add the onion and garlic, cook for 2-3 minutes until soft. Add the jackfruit and cook for 5-6 minutes, stirring occasionally. Stir in the BBQ sauce and cook for a further 2-3 minutes. Pull apart the jackfruit using a fork until it is all shredded, and remove from the grill.
Serve at your next BBQ in your favourite burger bun with slaw or salad for a delicious vegetarian/vegan treat!