Coronavirus – the latest updates from George Foreman Grills -
FIND OUT MORE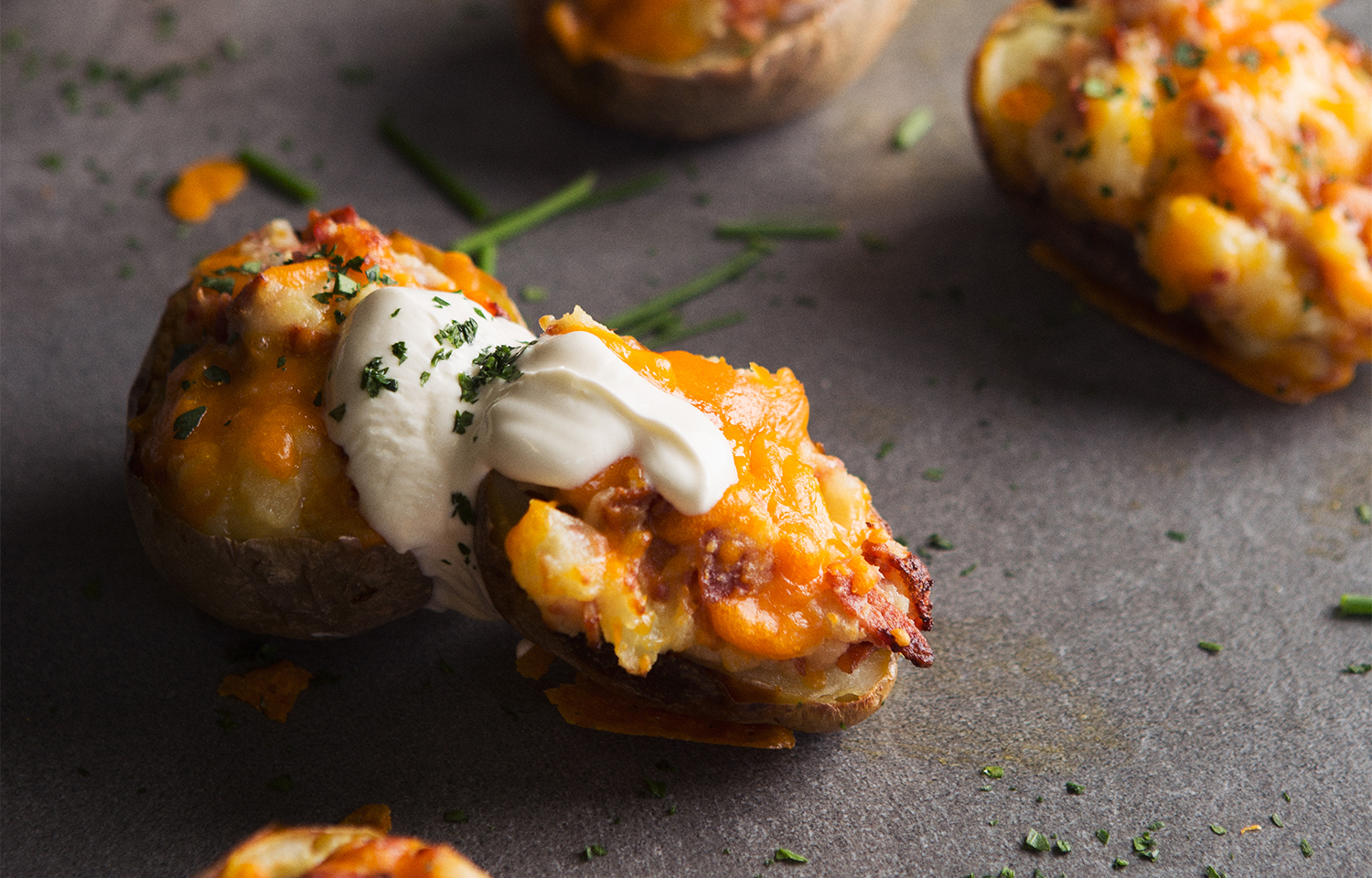 Cheesy Bacon Potato Skins
Ingredients
6 medium potatoes
2 tbsp olive oil
8 slices ham, chopped
300g red Leicester, grated, plus extra for topping
5 spring onions, finely sliced
1 ½ tsp paprika
300ml soured cream
½ bunch flat leaf parsley, chopped
Salt and pepper to taste
We recommend: the George Foreman Grill & Melt or the George Foreman Evolve Grill with Deep Pan Plate.
Serves: 3-6
Pre-heat your oven to 200ºC.
Place the potatoes on a baking tray and spike a couple of times with a fork, drizzle with the olive oil and bake for 25-35 minutes until the skin is crisp.
Allow your baked potatoes to cool slightly, then cut them in half-length ways.
Scoop the middle of the potatoes out into a bowl and allow to cool – be careful not to puncture the outside of the skin as these are going to be your shells later!
Return the potato skins to your baking tray, drizzle a little more oil over them and bake for a further 10 minutes.
To your cooked potato insides, add the ham, cheese, spring onions, paprika, soured cream, and parsley, and season with salt and pepper to taste. Mix well until fully combined.
Remove your potato skins from the oven and spoon in some of the mixture, then top with some grated cheese.
Pre-heat your George Foreman Evolve Grill with the grill with the deep pan plate attached to 205ºC, or activate the melt setting of your George Foreman Grill & Melt and pre-heat.
Put the potatoes skins on your grill and cook for 5-10 minutes until cheese has melted on top and they are piping hot.