Coronavirus – the latest updates from George Foreman Grills -
FIND OUT MORE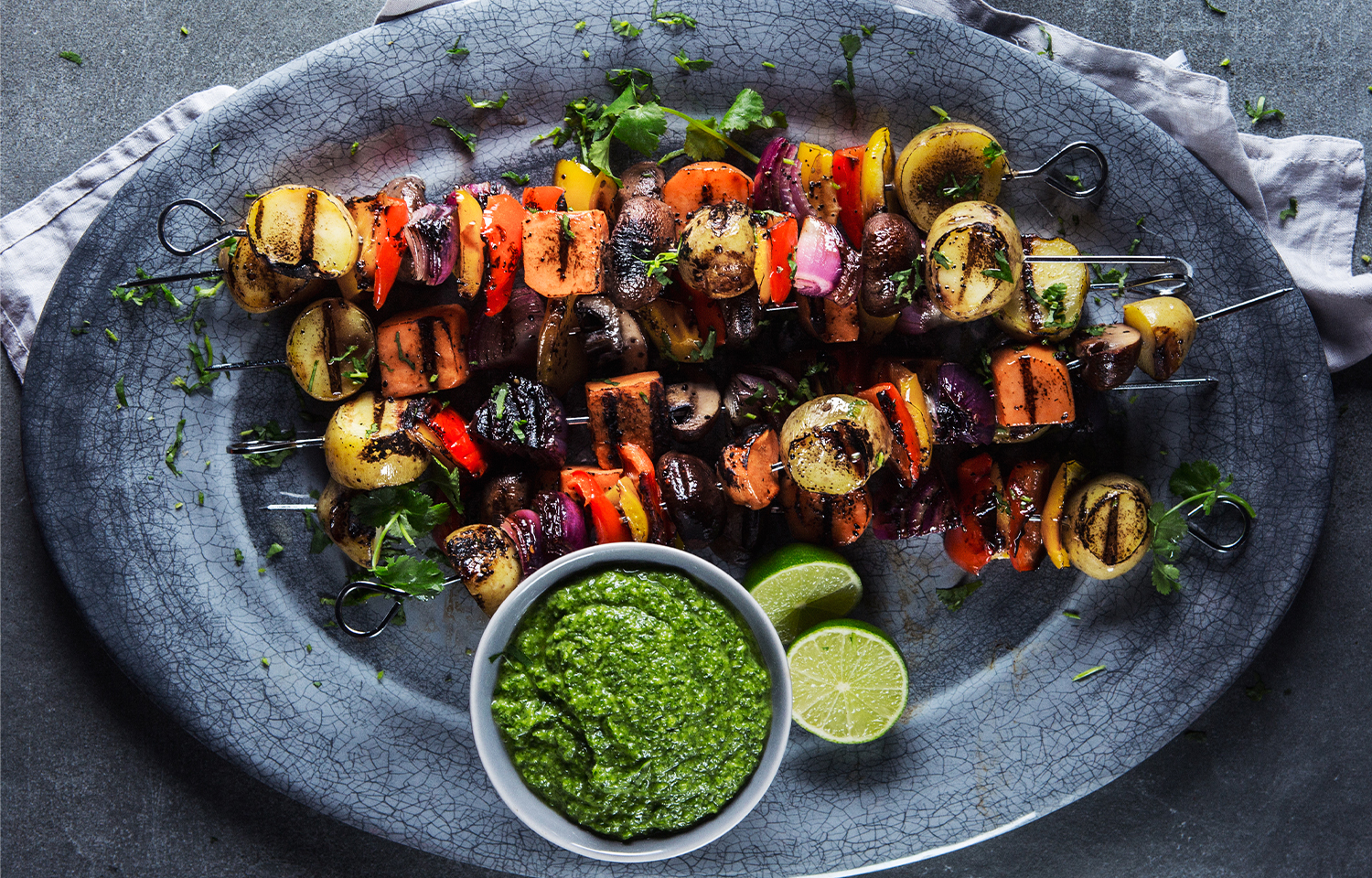 Vegetable Skewers
Ingredients
8 wooden skewers, soaked in water for 30 minutes
1 medium sweet potato, cut in to approx. 16 even pieces
8 new potatoes, cut in half
8 chestnut mushrooms, cut in half
1 yellow pepper, deseeded and cut into approximately 16 even pieces
16 cherry tomatoes
4 tbsp olive oil
Salt and pepper to taste
For the chimichurri salsa:
1 bunch flat leaf parsley, finely chopped
1 bunch coriander, finely chopped
2 cloves garlic, finely chopped
½ white onion, finely chopped
1 green chilli, deseeded and finely chopped
5 tbsp olive oil
2 tbsp sherry vinegar
Salt and pepper to taste
Can be made using any George Foreman grill – we recommend the Large Fit Grill or Smokeless BBQ Grill.
Serves: 2-4
In boiling salted water, cook the sweet potato and new potato for 4 minutes. Drain and run under cold water until completely cooled, drain again and thoroughly dry on kitchen paper.
On each skewer, thread a piece of sweet potato, pepper, mushroom, new potato and cherry tomato, and repeat so you have each item twice, alternating.
Pre-heat the grill to maximum. Brush the skewers with olive oil and season.
Grill for 5-10 minutes until golden brown.
While the skewers are grilling, combine all the ingredients of the chimichurri salsa together in a bowl and mix well.
To serve: place the skewers on a large serving dish and spoon over the salsa, then enjoy!