Coronavirus – the latest updates from George Foreman Grills -
FIND OUT MORE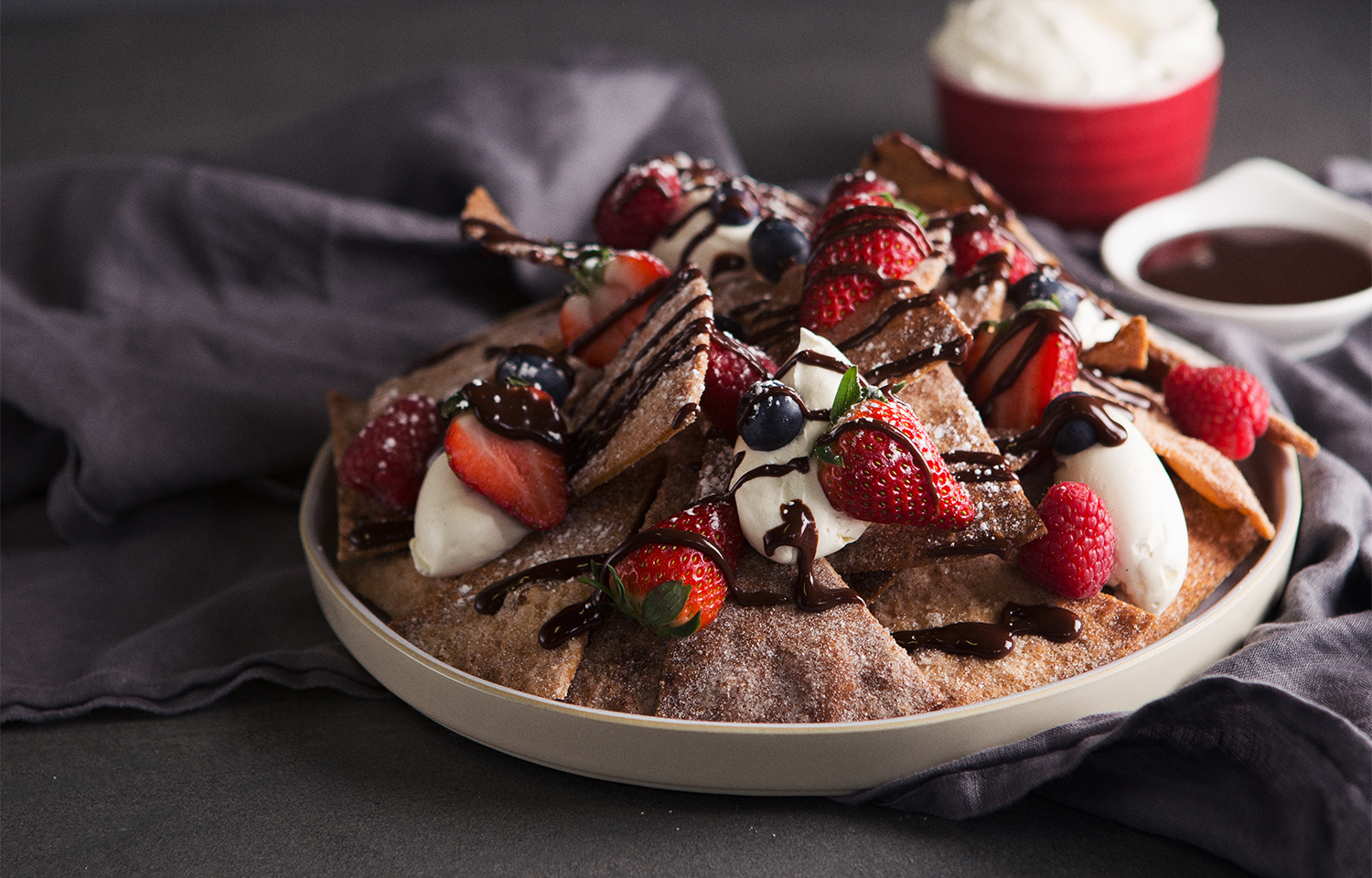 Sweet Nachos
Ingredients
For nachos-
1 packet of small tortillas, each cut into 8 pieces
60g butter, melted
100g caster sugar
2 tsp cinnamon
For chocolate sauce-
150ml double cream
2 tbsp caster sugar
70g dark chocolate
For serving-
Whipped cream
Mixed berries – strawberries, blueberries, raspberries
Icing sugar
Can be made using any George Foreman grill – we recommend the Smokeless BBQ Grill or the George Foreman Evolve Grill with Deep Pan Plate.
Serves: 3-6
Place the tortilla triangles in a large bowl and pour over the melted butter. Mix well making sure all of the tortillas are well coated.
In a separate bowl, mix together the sugar and cinnamon, then sprinkle ¾ of it over the tortillas. Reserve the remaining cinnamon sugar for later.
Pre-heat your favourite George Foreman Grill to medium. Once up to temperature, bake the tortilla pieces in batches for 3-5 minutes, or until they start to down and turn crispy.
Once cooked, remove tortillas from the grill and sprinkle over the remaining sugar mix.
Grab a saucepan and heat the cream and sugar on a low heat – once boiled, remove from the hob and stir in the chocolate until it is all melted and glossy.
To assemble, place ½ of the tortillas in a large serving dish, then drizzle over half of the chocolate and repeat once more. Add dollops of whipped cream to the top and garnish with your favourite mixed berries (we like strawberries and blueberries, but anything will work), then dust over some icing sugar and dig in!