Coronavirus – the latest updates from George Foreman Grills -
FIND OUT MORE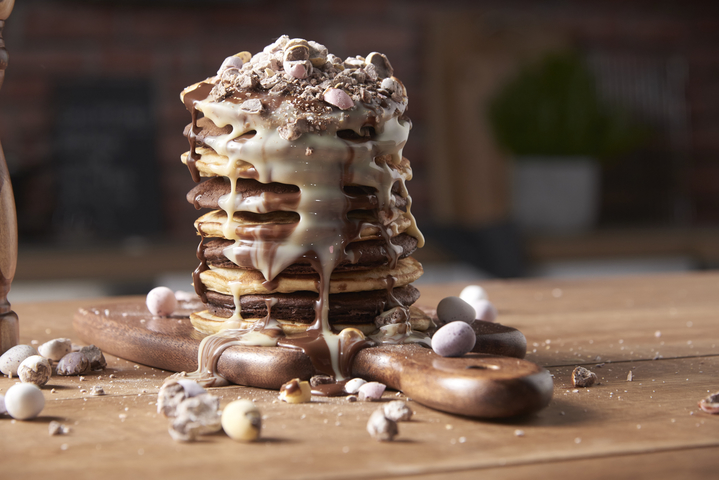 Mini Egg Pancakes
Ingredients
170g plain flour
3 tsp baking powder
½ tsp salt
30g golden caster sugar
2 large free range eggs
250ml milk
½ tsp vanilla extract
100g white chocolate chips
100g milk chocolate chips
1 bag of chocolate mini eggs
We recommend: the George Foreman Evolve Grill with Deep Pan Plate or the George Foreman Variable Temperature Grill & Griddle
Serves: 4
Sift the flour, baking powder, salt and sugar into a medium-sized bowl or large measuring jug.
In two separate smaller bowls, separate the egg whites and yolk, combine the egg yolks with the milk and vanilla, and mix into the dry ingredients.
Whisk the egg whites until soft peaks are formed, fold into the mixture.
Pre-heat the griddle of your George Foreman Grill and Griddle to maximum and when the green light comes on, spoon some of the mixture onto the griddle. When the pancake starts to bubble, flip it over and cook on the other side.
To keep the pancakes warm, lay them on a baking tray or plate and leave in a warm oven until all of the pancakes are cooked.
In separate bowls, add white and milk chocolate chips and melt in the microwave – do this for 30 seconds at a time stirring between each beep, to ensure the chocolate doesn't burn.
To serve, stack the pancakes on a plate, drizzle over a bit of each melted chocolate, and top with chopped mini eggs.
Dig in and enjoy!