Coronavirus – the latest updates from George Foreman Grills -
FIND OUT MORE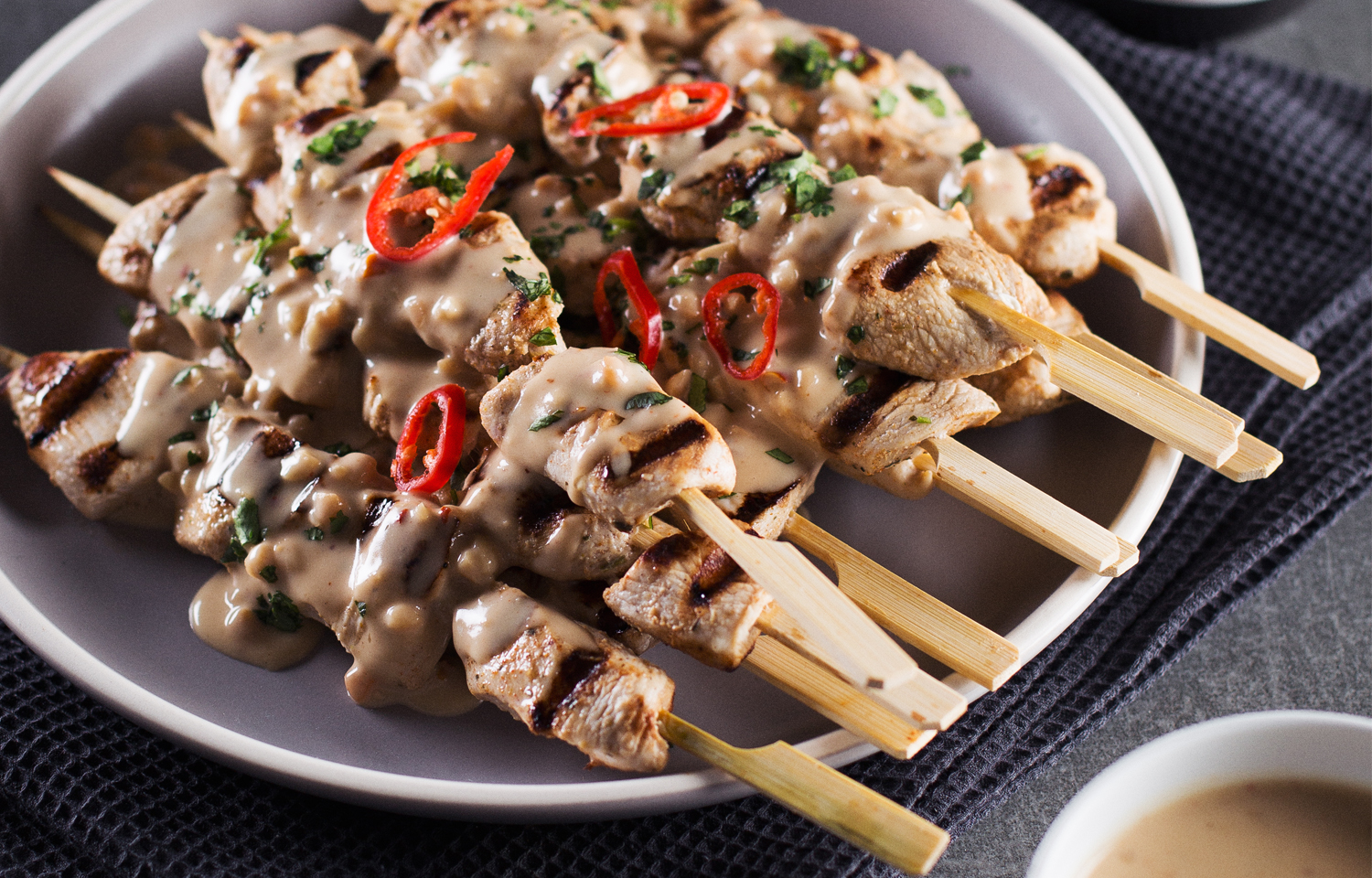 Satay Chicken Skewers
Ingredients
4 chicken breasts, boneless and skinless
For the marinade:
1 tbsp honey
2 tsp light soy sauce
1 lime juice
3 cloves garlic, finely crushed
1 tbsp curry powder
For the satay sauce:
1 can coconut milk
3 tbsp peanut butter
½ red chilli, finely chopped
2 tsp brown sugar
2 tbsp light soy sauce
½ tsp chilli powder
Can be made using any George Foreman grill – we recommend the George Foreman Smokeless BBQ Grill
Serves: 4
Firstly, soak your wooden skewers in water for 30 minutes so they don't burn once on the grill.
Cut each chicken breast into 4 strips. For each skewer, take one strip of raw chicken and feed on lengthways in an S shape. Alternatively, cut into chunks and thread on one by one. Set aside.
In a bowl, make a marinade by mixing together the honey, soy sauce, lime juice, crushed garlic and curry powder, making sure it is all nicely combined.
Coat your chicken skewers thoroughly with the marinade, trying your best to cover each piece of chicken, then cover with cling film and refrigerate for at least 20 minutes.
To make the nutty satay sauce, add your coconut milk to a saucepan and heat gently. Once warmed through add the peanut butter, chilli, brown sugar, light soy sauce and chilli powder and slowly bring to the boil, stirring continuously.
Pre-heat your favourite George Foreman grill to maximum, then once it is hot, place the marinated skewers on the grill and cook for 8-12 minutes until cooked through and the juices run clear.
Serve on a platter or large plate, and pour over your delicious, thick satay sauce.
Garnish with thinly sliced red chilli if you desire.