Coronavirus – the latest updates from George Foreman Grills -
FIND OUT MORE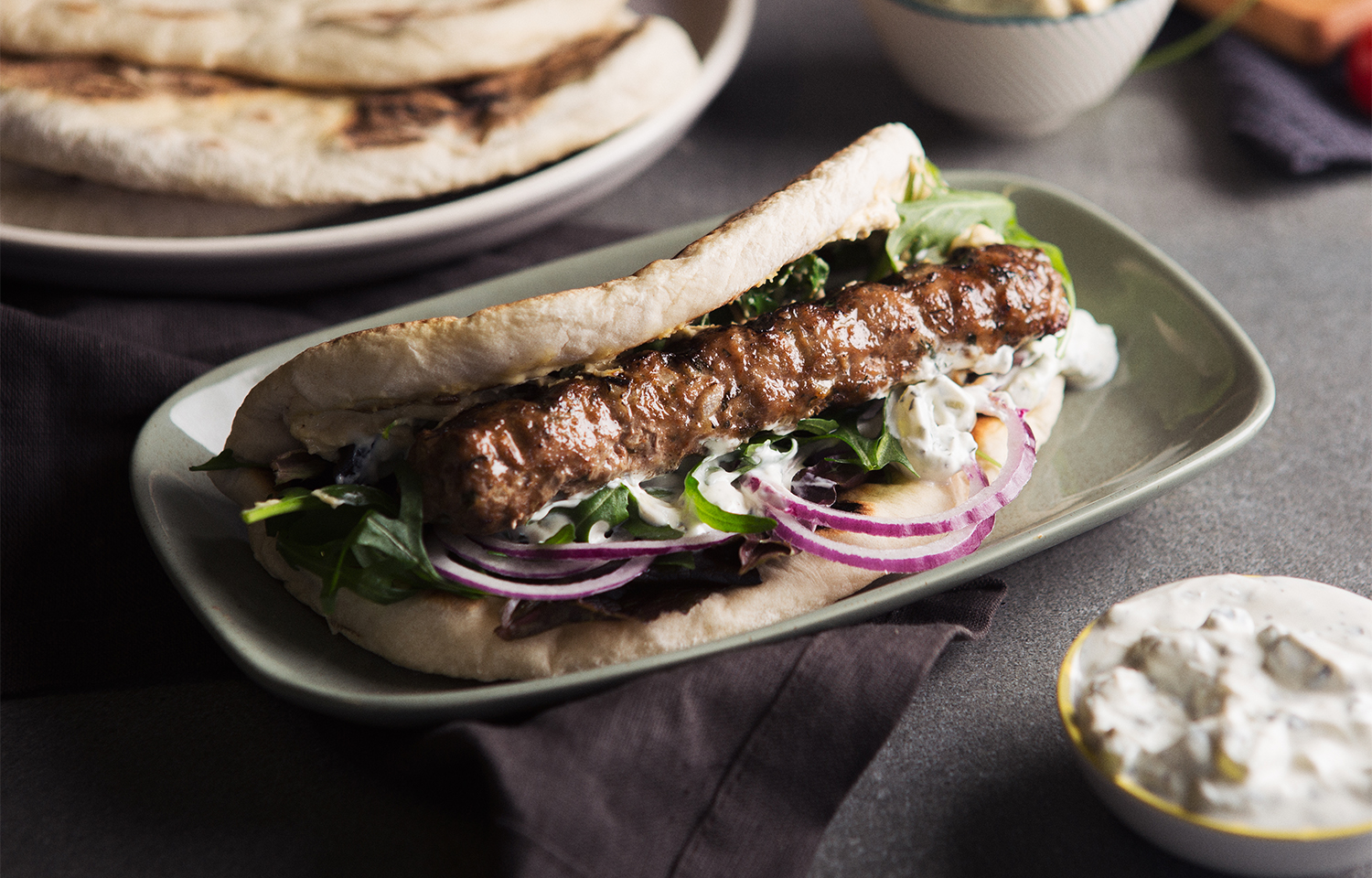 Lamb Koftas with Flat Bread
Ingredients
For the flat breads-
180ml water, luke warm
90ml Greek yoghurt, room temperature
30ml vegetable oil, room temperature
30g butter, melted
1 tbsp caster sugar
1 ½ tsp salt
450g strong white flour
5g yeast
For the koftas-
600g minced lamb
2 tsp ground cumin
2 tsp ground coriander
½ white onion, finely diced
3 cloves garlic, finely chopped
½ bunch fresh mint, finely chopped
1 green pepper, finely diced
½ bunch fresh parsley, finely chopped
Salt and pepper to taste
12 wooden kebab skewers
For the flat breads, mix the yeast into the water, add the yoghurt, vegetable oil, and butter and add together in a kitchen machine bowl, add the sugar and salt, sift and add the flour. Mix with a dough hook until well combined.
Remove from the bowl onto a floured work surface and using the heel of your hand stretch the dough away from you and fold it back on top. Repeat this for 10-15 minutes until the dough starts to be stretchy and elastic. Place in a bowl and cover, leave in a warm place to prove for 1 hour and doubled in size.
Tip the dough onto a lightly floured surface and gently knock the air out of the dough. Cut the dough into 6 equal amounts and shape into balls. Place on a tray and cover and again leave in a warm place for 45 minutes to prove.
For the koftas, mix all ingredients together and shape onto the skewers. Cover with cling film and refrigerate for at least 20 minutes.
Cooking, pre heat the grill and griddle to 3 on both sides, for the flatbreads take each ball and roll out to a size that fits on the griddle. Carefully place the rolled out dough on the griddle and cook for 4-6 minutes on each side, remove and repeat with all the dough. For the koftas, place on the grill and cook for 5-6 minutes, then move around and cook for a further 4-5 minutes until cooked through and the juices run clear.
Serve with tzatziki, hummus and salad.