Coronavirus – the latest updates from George Foreman Grills -
FIND OUT MORE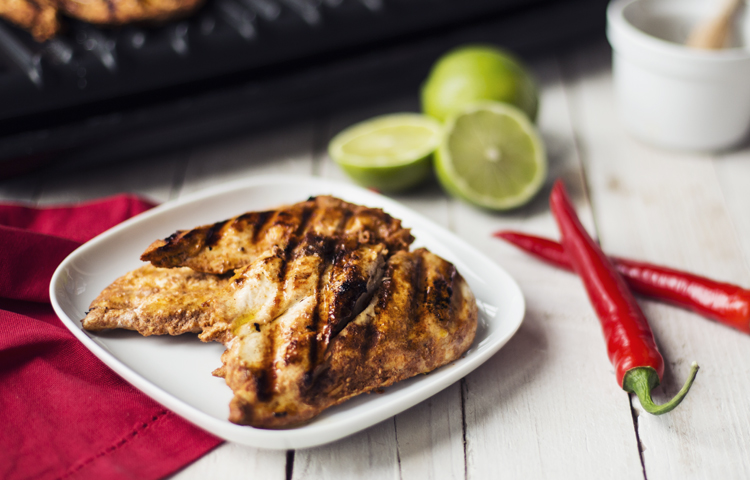 Chilli and Lime Butterfly Chicken
Ingredients
4 butterflied chicken breasts
3 tbsp. chilli powder
2 tbsp. olive oil
1 lime – juice and zest
4 garlic cloves
1 tsp. ground coriander
1 tsp. ground cumin
Can be made using any George Foreman grill – we recommend the Large Fit Grill or Large Steel Grill.
Serves: 4
Finely chop the garlic and add to a medium sized bowl along with the chilli powder, olive oil, lime juice and zest, coriander, and cumin, then mix thoroughly.
Add the chicken to your marinade and give it a good mix, making sure all the chicken is covered. Cover with cling film and leave in the fridge to marinate for at least 2 hours, or overnight if you have the time.

Top tip: the longer you leave the chicken to marinate, the more intense the flavour will be!

Once your chicken has had enough time to marinate, remove from the fridge at least 20 minutes before grilling so it has time to come up to room temperature – this will ensure you get the best and juiciest results.
Heat your favourite George Foreman Grill to maximum and cook the chicken for 8-10 minutes, depending on thickness.
Serve with your favourite sides – we recommend homemade chips and a side salad for a delicious meal that will spice up your weekly meal routine!