Coronavirus – the latest updates from George Foreman Grills -
FIND OUT MORE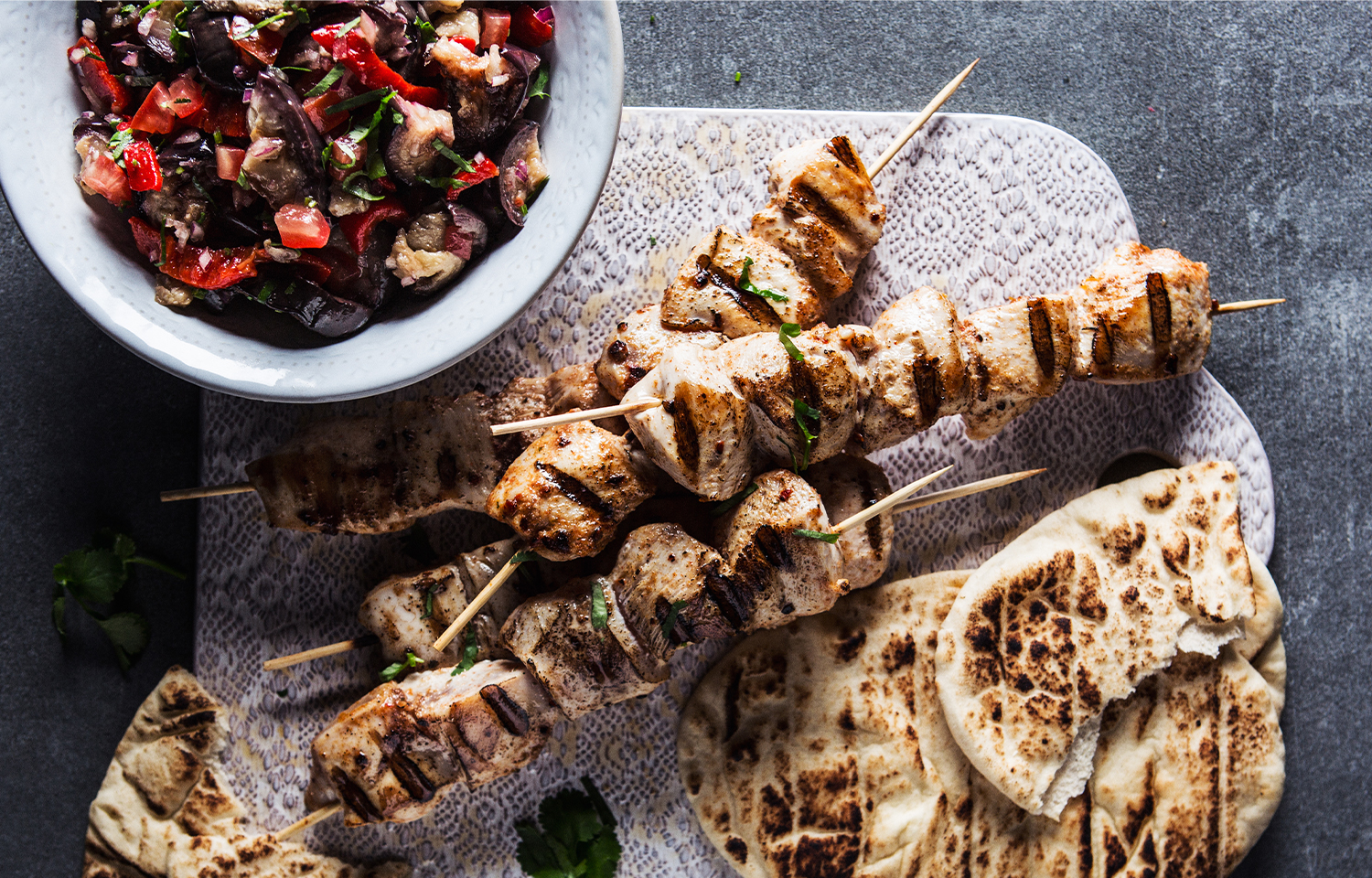 Chicken Skewers with Chunky Grilled Aubergine Salsa
Ingredients
8 wooden skewers, soaked in water for 30 minutes
4 flat breads
For the chunky aubergine salsa:
2 large aubergines
2 tomatoes, deseeded and small diced
2 shallots, finely diced
½ bunch fresh coriander, finely chopped
1 cooked red pepper, chopped
4 tbsp olive oil
2 tbsp sherry vinegar
Salt and pepper to taste
For the skewers:
3 large chicken breasts, skinless, boneless and cut into approx. 2cm cubes
½ red chilli, deseeded and finely diced
2 cloves garlic, finely diced
3 tbsp olive oil
1 tsp paprika
Salt and pepper to taste
Can be made using any George Foreman grill – we recommend the Large Fit Grill or Smokeless BBQ Grill.
Serves: 4
Wash the aubergine and cut into even, 1cm thick rings. Add to a bowl along with 4tbsp of olive oil and season well, coating the aubergines entirely.
Pre-heat your favourite George Foreman Grill to maximum.
Grill the aubergine rings in batches until all cooked. Set aside to cool and turn off the grill.
Once cooled, chop each ring into quarters and combine with the other salsa ingredients.
In a clean bowl, combine the cubed chicken with the chilli, garlic, olive oil, paprika, salt and pepper, then feed each piece onto the skewers. Cover and refrigerate for 20 minutes.
Pre-heat the grill to maximum once more and cook the chicken skewers for 8-12 minutes or until cooked through and the juices run clear.
Grill the flatbreads for 2-3 minutes and serve with the chicken skewers and aubergine salsa.