Coronavirus – the latest updates from George Foreman Grills -
FIND OUT MORE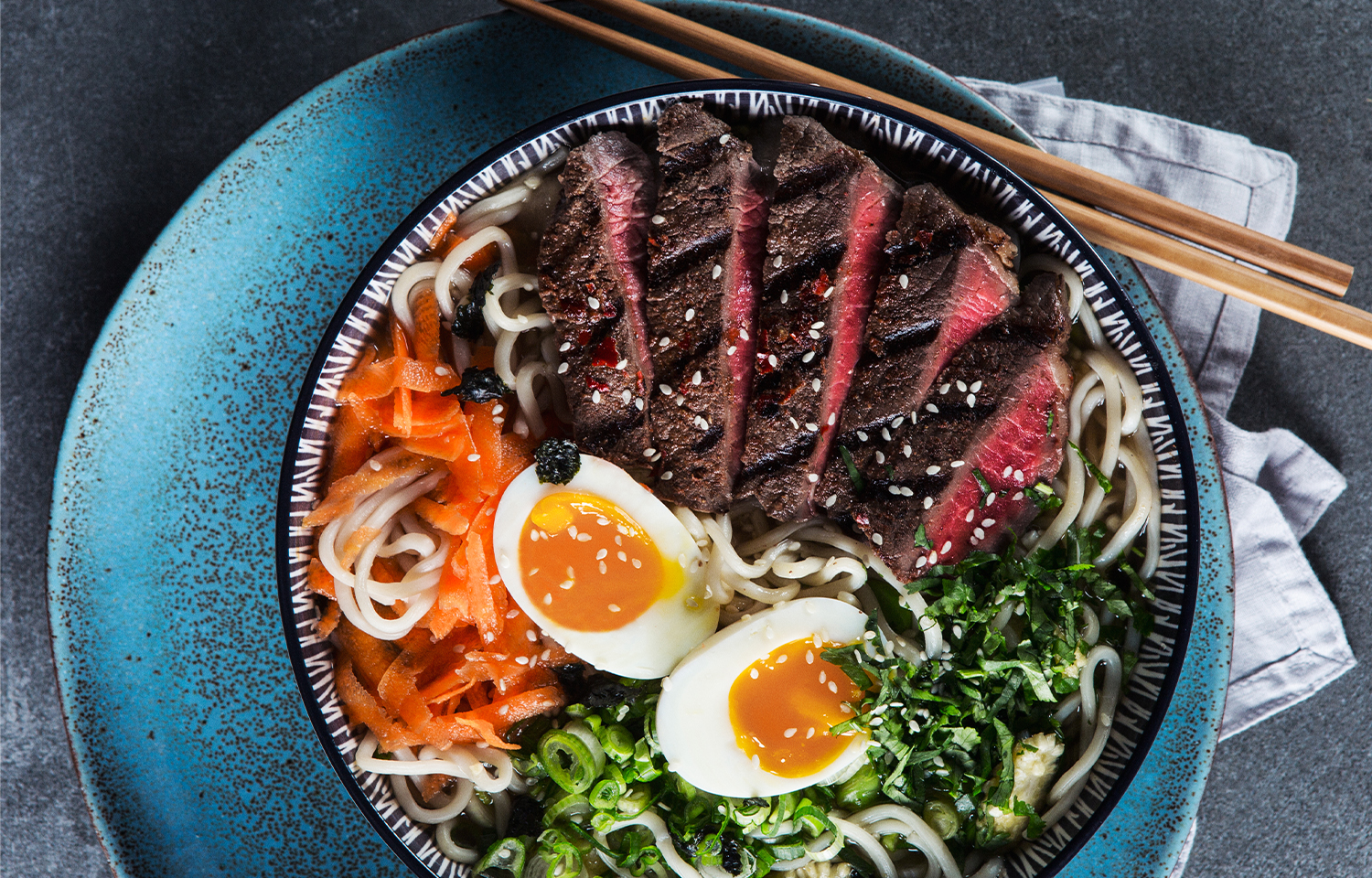 Beef Ramen Noodles
Ingredients
2 x 250-300g rump steaks
2 tbsp. sesame oil
2 tsp. chilli paste
For the stock:
300ml chicken stock
300ml beef stock
250ml water
3 tbsp. light soy sauce
3 cloves garlic, finely chopped
½ tsp. Chinese 5 spice
½ red chilli, finely diced
1 tsp. ginger puree
To garnish:
350-400g cooked ramen noodles
4 soft boiled eggs, peeled and halved
8 baby sweetcorn, thickly sliced
100g baby spinach leaves
1 grated carrot
1 bunch coriander, chopped
2 spring onions, finely sliced
1 sheet dried nori, finely chopped
Sesame seeds
Can be made using any George Foreman grill – we recommend the Large Fit Grill or Smokeless BBQ Grill.
Serves: 4
In a small bowl, mix together the sesame oil and chilli paste and brush over the rump steaks.
In a saucepan on the hob, combine the chicken stock, beef stock, water, light soy sauce, garlic, Chinese 5 spice, red chilli and ginger puree. Bring to the boil, then reduce the heat and simmer for 10-15 minutes. Strain the stock into a clean pan, and set aside.
Pre-heat your favourite George Foreman Grill to maximum. Cook the flavoured rump for approximately 3-5 minutes, then remove from the grill and rest for at least 5 minutes.
Add the baby sweetcorn to your strained broth and bring to the boil.
To serve: Divide the cooked noodles between 4 bowls. Divide the rump and baby spinach evenly and place on top of the noodles, then pour over the broth. Top with the boiled eggs, coriander, spring onions, nori and sesame seeds.
Dig in!