Coronavirus – the latest updates from George Foreman Grills -
FIND OUT MORE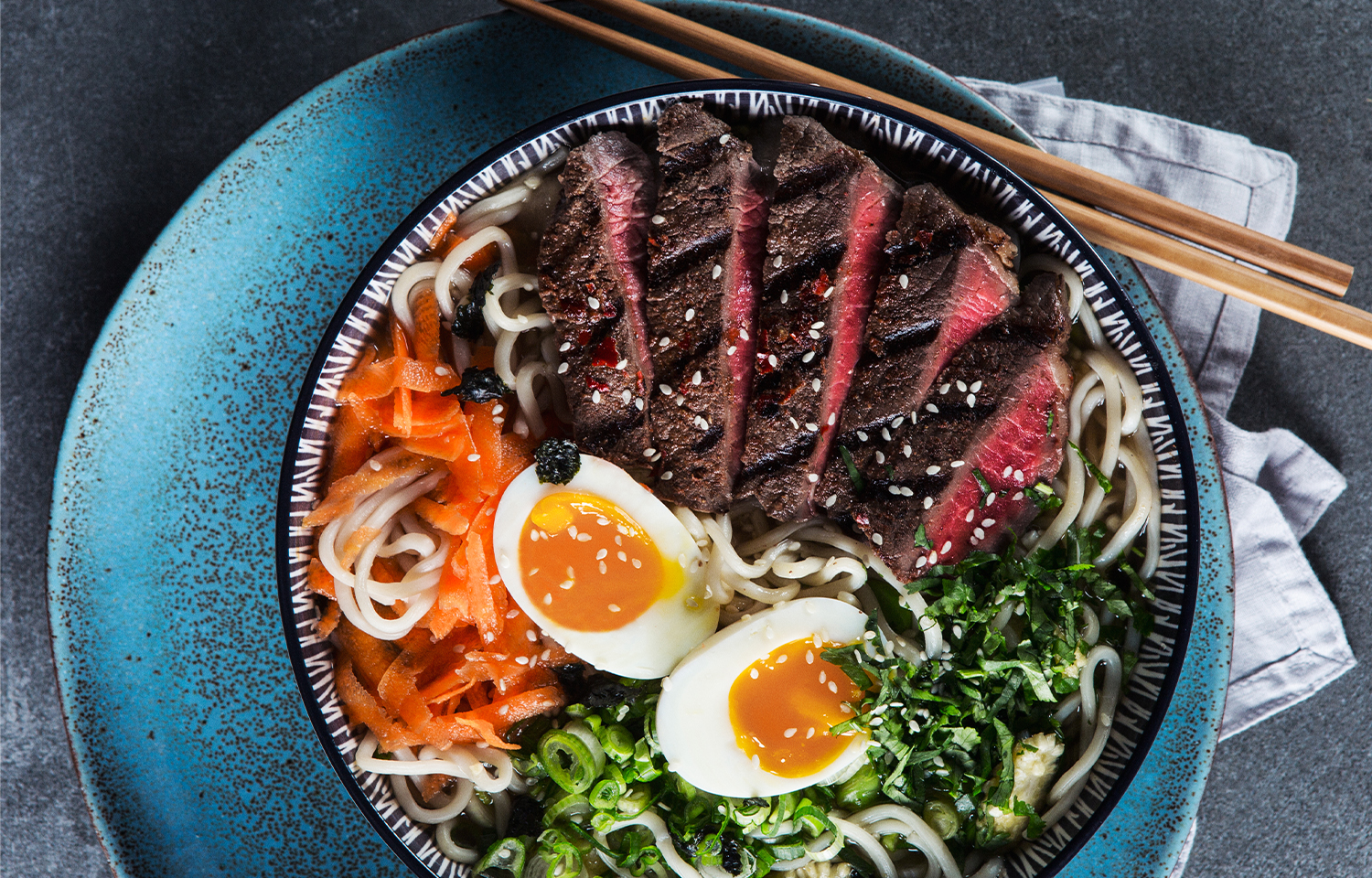 Beef Ramen Noodles
Ingredients
2 x 250-300g rump steaks
2 tbsp. sesame oil
2 tsp. chilli paste
For the stock:
300ml chicken stock
300ml beef stock
250ml water
3 tbsp. light soy sauce
3 cloves garlic, finely chopped
½ tsp. Chinese 5 spice
½ red chilli, finely diced
1 tsp. ginger puree
To garnish:
350-400g cooked ramen noodles
4 soft boiled eggs, peeled and halved
8 baby sweetcorn, thickly sliced
100g baby spinach leaves
1 grated carrot
1 bunch coriander, chopped
2 spring onions, finely sliced
1 sheet dried nori, finely chopped
Sesame seeds
Mix the sesame oil and chilli paste together and brush over the rump steaks.
In a saucepan, combine the chicken stock, beef stock, water, light soy sauce, garlic, Chinese 5 spice, red chilli and ginger puree. Bring to the boil then reduce the heat and simmer for 10-15 minutes.
Pre-heat the grill to maximum. Cook the flavoured rump for approx. 3-5 minutes, remove from the grill and rest for at least 5 minutes.
To serve: Divide the cooked noodles between 4 bowls. Divide the rump and baby spinach evenly between the bowls and place on top of the noodles. Strain the stock into a clean pan, add the baby sweetcorn and bring back to the boil. Pour into the bowls. Top with the boiled eggs, coriander, spring onions, nori and sesame seeds.
Dig in!