Coronavirus – the latest updates from George Foreman Grills -
FIND OUT MORE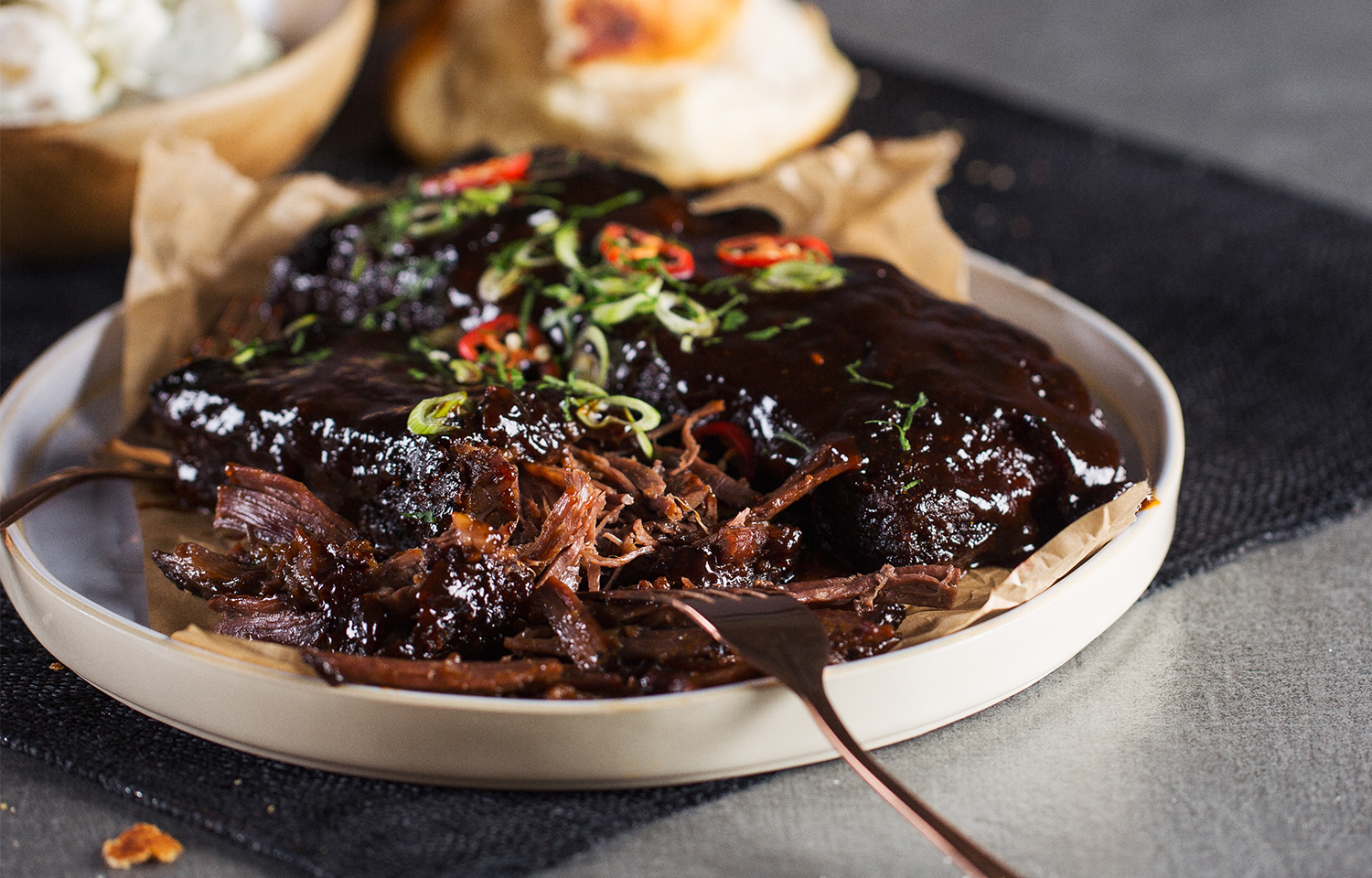 BBQ Beef Brisket
Ingredients
600-700g beef brisket, cook by simmering in beef stock until tender (approx. 3-4 hours)
For the BBQ sauce -
½ white onion, finely chopped
1 clove garlic, finely chopped
60g tomato ketchup
10ml dark soy sauce
1 tbsp dark brown sugar
1 tbsp Worcestershire sauce
½ tbsp malt vinegar
3-4 drops tabasco sauce
¼ tsp mustard powder
2 tbsp olive oil
We recommend: the George Foreman Evolve Grill with Deep Pan Plate.
Start by cooking your beef brisket in simmering beef stock until tender – you will need enough stock to fully submerge the beef, so adjust accordingly! This process will take approximately 3-4 hours on a low heat, depending on the size of your meat. Once your beef is cooked, strain the stock through a sieve to get rid of lumps, skim off excess fat and reserve for later.
For the BBQ sauce, attach the deep pan plate to your George Foreman Evolve Grill and pre-heat to 220o Add the oil and heat for 1 minute.
Add the diced onion and garlic to your grill and cook for 3-4 minutes until they become translucent, stirring occasionally.
Carefully add the ketchup, soy sauce, sugar, Worcestershire sauce, vinegar, tabasco and mustard powder, and stir well. Cook for 4-5 minutes, stirring occasionally. Then, turn the grill off and allow the sauce to cool. Transfer to a bowl and set aside for later.
Clean the deep pan plate and refit it to the grill. Pre-heat to 175o Place the pre-cooked beef brisket in the deep pan plate and spoon ½ - ¾ of the BBQ sauce over the top and reserve the rest – make sure the beef is fully coated by spreading the BBQ sauce over with a brush or the back of a spoon.
Reheat 100ml of your beef stock from earlier and add to the beef, then cook for 20-30 minutes with the lid closed. Check occasionally to make sure the stock hasn't dried up. If it has, add some more stock.
Remove from the grill and serve with the remaining BBQ sauce drizzled over the top!