Coronavirus – the latest updates from George Foreman Grills -
FIND OUT MORE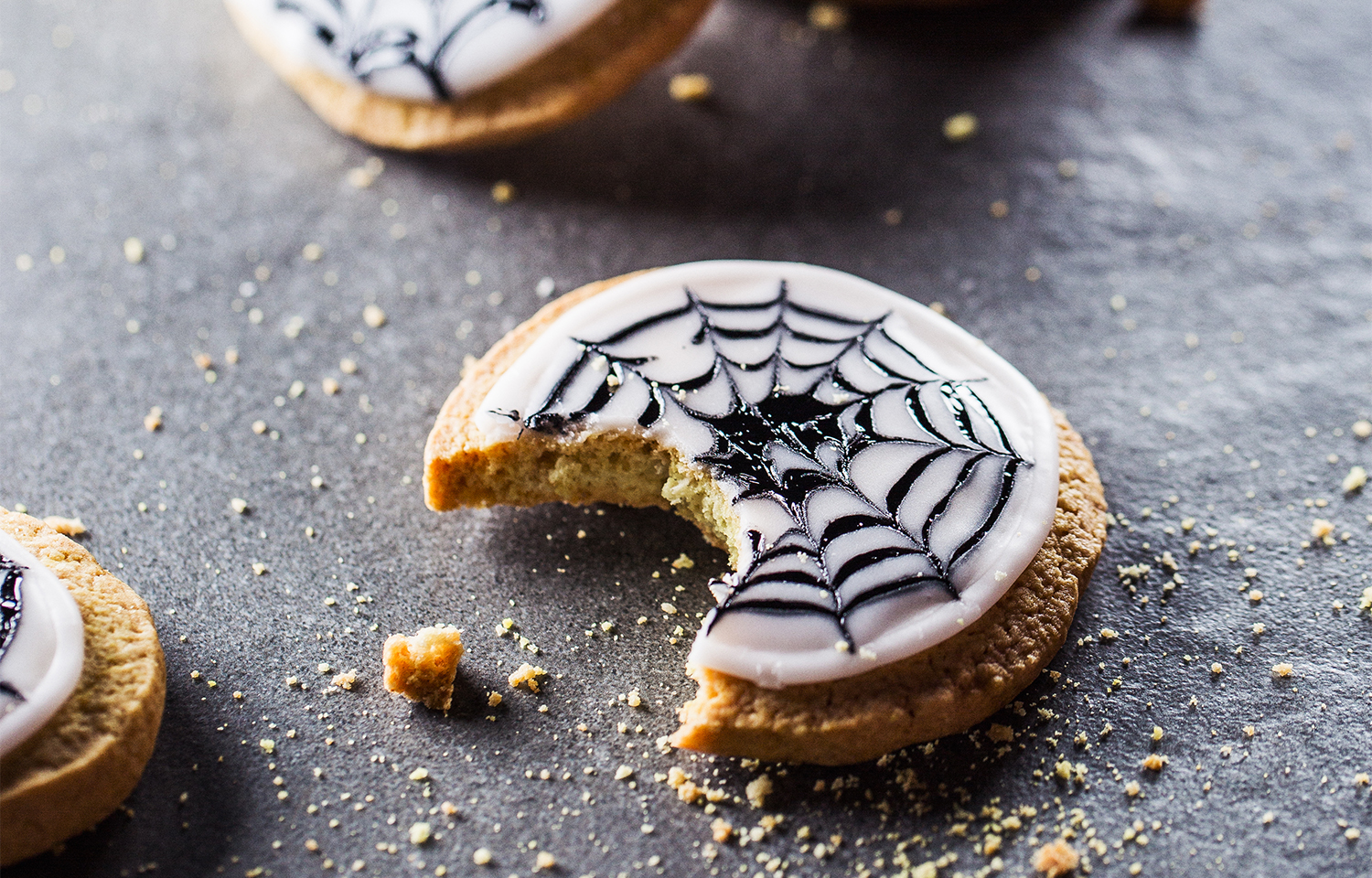 Spider Web Biscuits
Ingredients
250g butter, soft
140 caster sugar
1large free range egg
1tsp vanilla extract
300g plain flour
For the icing –
400g icing sugar, sifted
3-4 tbsp water
Black food colouring
We recommend: the George Foreman Evolve Grill with Deep Pan Plate.
Makes approximately 12 biscuits
In a medium to large bowl, cream together the butter and sugar until light and fluffy.
Add the vanilla extract and egg, and mix well. Sift in the flour and combine. Once the mixture forms a dough, stop mixing and roll into a cylinder, then wrap tightly in baking paper. Refrigerate the dough for at least 1 hour to set.
Pre-heat your George Foreman Evolve Grill to 160ºC with the deep pan plate attached.
Remove the biscuit dough from the fridge and cut into discs approximately ½cm thick.
Carefully place the biscuit discs in small batches into the deep pan plate and cook until golden brown - this will take approximately 8-16 minutes depending on the size of your biscuits, but keep an eye on them to make sure they don't burn. Once cooked, leave them to cool fully on a wire rack.
In a bowl, carefully add the icing sugar and slowly add the water whilst continuously mixing until a thick icing has formed. Be careful to not add too much water as it will turn too runny and be hard to use!
Once the biscuits have completely cooled, spoon some icing onto the centre of each one and spread out to cover the top. While the white icing is still slightly runny, grab a clean cocktail stick and draw on some circles with black food colouring, with a small circle in the middle and larger ones surrounding it.
Turn the circles into a spider web by placing your cocktail stick into the centre of your biscuit and dragging outwards with a little more black food colouring on – like the spokes of a wheel.
Leave to fully set and then dig in!