Coronavirus – the latest updates from George Foreman Grills -
FIND OUT MORE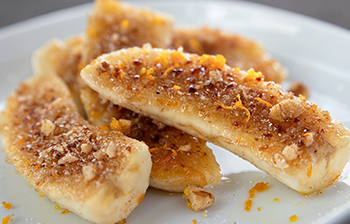 Quick & Easy Grilled Bananas
Ingredients
2 ripe bananas, peeled
2 tbsp sugar
½ tsp ground cinnamon
2 tbsp walnuts, finely minced
Mix the walnuts, sugar and cinnamon in a bowl.
Split the bananas lengthwise, then across their width. Lay the bananas on the grill, flat sides uppermost, and spoon the mixture on top of them.
Grill till the bananas are warm and the cinnamon and walnuts are slightly glazed (3-4 minutes).