Coronavirus – the latest updates from George Foreman Grills -
FIND OUT MORE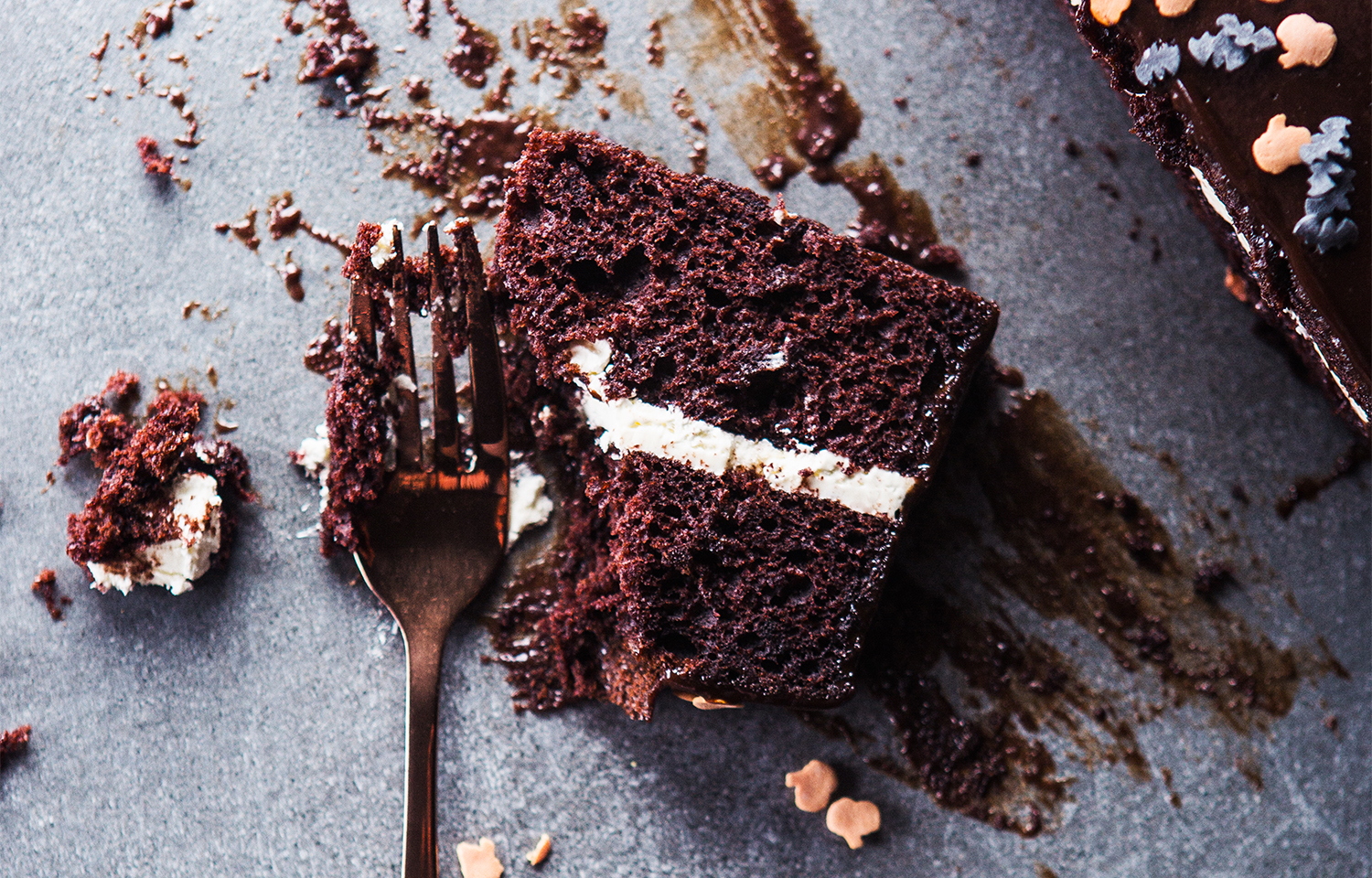 Devil's Chocolate Cake
Ingredients
125g unsalted butter, room temperature
75g golden caster sugar
1 tsp vanilla extract
1 large free range egg
25g cocoa powder
50g dark Muscovado sugar
120ml boiling water
115 plain flour
¼ tsp baking powder
¼ tsp bicarbonate of soda
½ tsp salt
1 tub of chocolate mirror glaze
For the white chocolate filling-
150g butter, room temperature
100g white chocolate, melted
250g icing sugar
We recommend: the George Foreman Evolve Grill with Deep Pan Plate.
Serves: 4-6
Sift the cocoa powder into a bowl and combine with the dark Muscovado sugar and boiling water. Mix until fully dissolved and set aside to cool slightly.
In a separate bowl, sift together the flour, baking powder, bicarbonate of soda and salt.
In a third bowl, cream together the butter, golden caster sugar and vanilla extract, then add the egg and whisk well again. Carefully fold in the dry ingredients, and once thoroughly mixed, fold in the cocoa mix.
Line the deep pan plate of your George Foreman Evolve Grill with baking paper while it is cold, and lightly grease with butter or oil. Pour the mixture into the deep pan plate over the top, then fit it to the grill and heat to 160ºC. Before shutting the lid, lay a piece of baking paper over the top of the mix, then close the lid and cook for 15-25 minutes until spongy – you'll know it's done if you skewer the middle with a cocktail stick and it comes out clean.
Once cooked, turn off the grill and leave to cool slightly, then carefully remove from the grill and turn out onto wire rack to cool completely.
To make the filling, sift the icing sugar into a bowl then whisk in the butter until it is light and fluffy. Then whisk in the melted white chocolate a little at a time until it has all been incorporated.
To assemble, cut the cake in half along the long edge to form two equally sized pieces that are approximately square. Place one half onto the wire rack with a tray underneath and spread it with the white chocolate filling. Place the other half on top. Clean any excess filling from the sides but keep the cake on the wire rack.
Gently heat the chocolate mirror glaze until it is fully liquid, then pour over the top of the cake making sure to cover all of the sides. If the glaze runs out and all sides aren't covered, lift the wire rack and reuse the glaze that has dripped through on to the tray.
Enjoy!