Coronavirus – the latest updates from George Foreman Grills -
FIND OUT MORE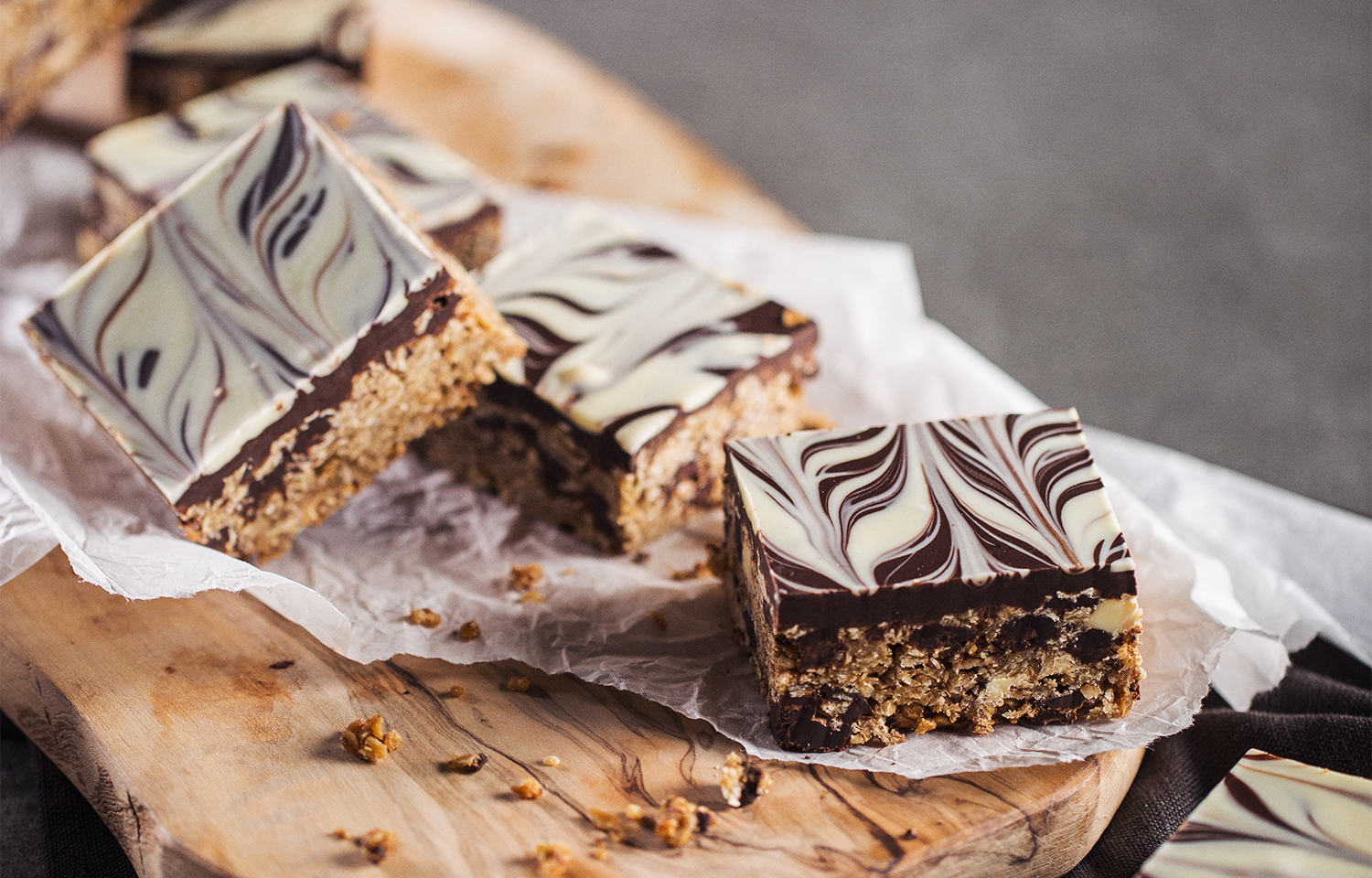 Chocolate Flapjack
Ingredients
For the flapjack:
190g butter
190g soft brown sugar
90g golden syrup
375g porridge oats
180g dark chocolate chunks
180g white chocolate chunks
To decorate:
150g dark chocolate
75g white chocolate
We recommend: the George Foreman Evolve Grill with Deep Pan Plate.
Serves: 8
Line the deep pan plate of your Evolve Grill with baking paper.
In a non-stick pan on the hob, heat the butter, sugar and syrup. Mix until all of the sugar has dissolved into the butter and syrup, and the mixture is fully combined. Set aside to cool slightly.
Stir in the oats, and dark and white chocolate chunks, making sure everything is coated evenly in the sweet sticky sauce.
Transfer the mixture into the deep pan plate and press down evenly.
Attach to the grill and heat to 160oC, then cook for 15-20 minutes.
Once cooked, turn off the grill to allow your flapjacks to cool for 10 minutes, then remove from the deep pan plate and allow to completely cool on a wire rack.
Once completely cooled, transfer your flapjack to the fridge and refrigerate for at least an hour to fully set.
In two separate bowls, melt your dark and white chocolate in the microwave by heating in 30 second bursts, stirring in between to ensure the chocolate doesn't burn. Top tip: when you think your chocolate is very nearly fully melted, give it an extra good stir and the mixture should melt all the way – this will prevent overheating!
Once both chocolates are separately melted, spread the dark chocolate on the top of your refrigerated flapjacks, ensuring to level out into an even layer.
Drizzle the white chocolate over the top of the dark chocolate in a random pattern while the dark chocolate is still runny – don't worry about being messy, it will look great at the end!
While your chocolate lid is still wet, run a toothpick in alternating directions lengthways down your chocolate lid, and this should create a feather-like pattern.
Refrigerate for a further 15-20 minutes, then cut into the desired sized squares and dig in!