Coronavirus – the latest updates from George Foreman Grills -
FIND OUT MORE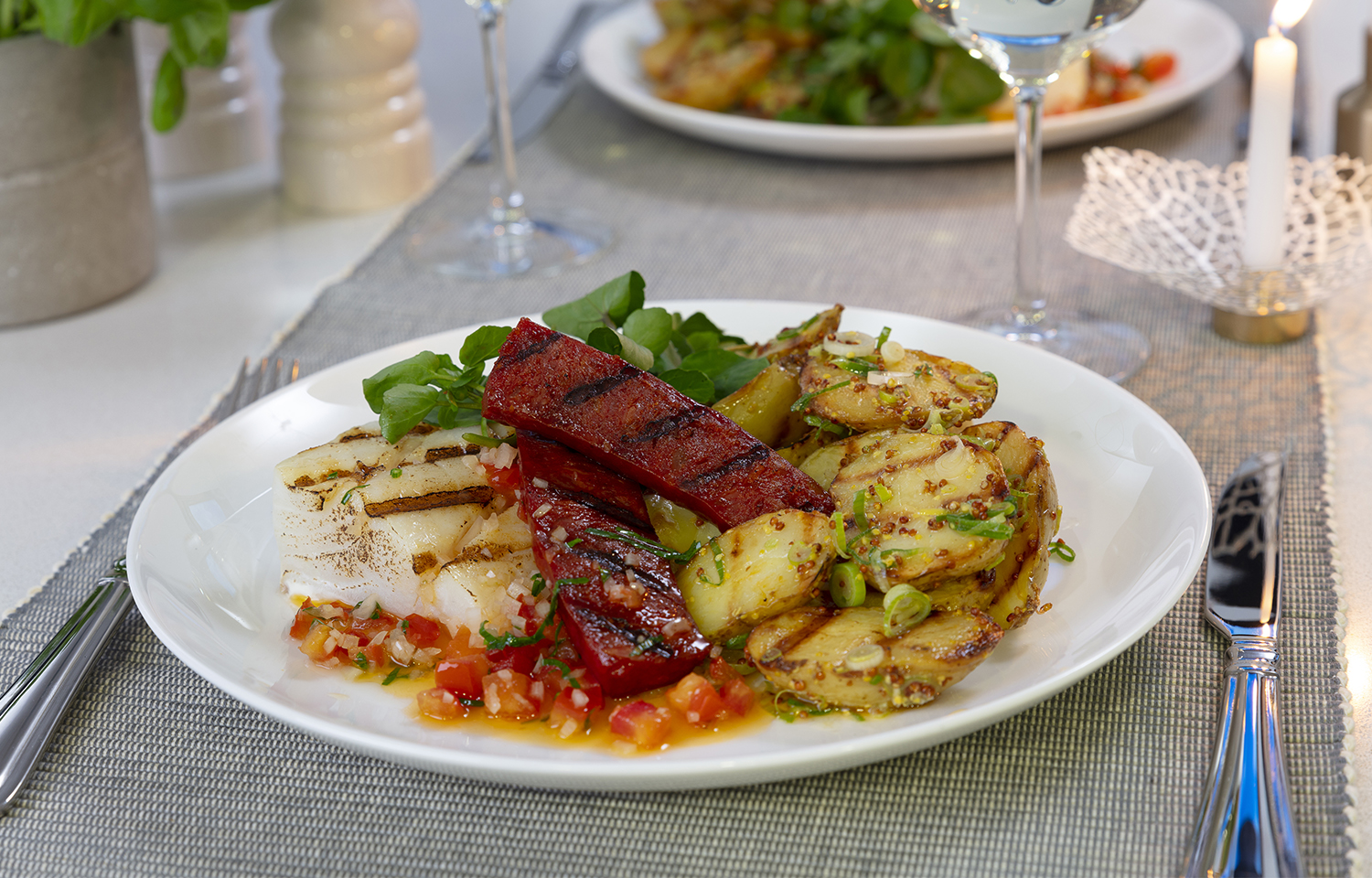 Roasted Cod with Chorizo and Hot New Potato Salad
Ingredients
2 x 200-250g cod fillet portion
½ chorizo ring, cut in half lengthways
1 bunch watercress to serve
For the hot new potato salad –
6-8 new potatoes, boiled in salted water until almost cooked through
1 tbsp grain mustard
1-2 spring onions, finely sliced
Olive oil
¼ bunch fresh flat leaf parsley, finely chopped
For the tomato dressing –
1 shallot, finely diced
½ tsp tomato puree
2 tomatoes, deseeded and chopped
2 tsp sherry vinegar
2 tbsp olive oil
Salt and pepper
Can be made using any George Foreman Grill - we recommend the Large Fit Grill or the Smokeless BBQ Grill.
Serves: 2
For the dressing, heat 1tsp of the oil in a small pan and cook the shallots until soft and translucent - this should take approximately 2-3 minutes. Add the tomatoes and cook for a further minute. Add the tomato puree and cook for a further minute. Add the remaining ingredients and set aside.
For the hot new potato salad, boil the potatoes in salted water until almost cooked through but a minute or two short of their full cooking time. Drain the potatoes before drying on kitchen paper.
Pre-heat your favourite George Foreman Grill. Cut the potatoes in half lengthways and toss in olive oil and seasoning. Cook on the grill until golden and cooked through, then mix with the remaining ingredients.
For the chorizo and cod, brush with a little oil and season. Grill the chorizo for 4-5 minutes then remove, and grill the fish until it begins to flake, which will take approximately 8-12 minutes depending on shape and size.
To serve, arrange the cod, chorizo, potato salad on plates. Spoon a little of the dressing over the cod and garnish with the watercress.